A Story to Remind You that Education can get LGBTQ+ to Places
In Washington, there is a boy. Seth Owen is his name. And Seth strongly believes that school is important. Owen was his high school valedictorian and according to abc10, he finds solace in studying and learning.
But how many kids actually love studying? A handful. But what sets Seth's case apart is his initial approach to it. As an escape from his toxic home life.
Home, Not Homely
Growing up in Jacksonville, Florida, he was born to a devoutly religious family. The religion extended into their careers as well. They served in leadership positions at the church and had to serve multiple times a week.
So one can only imagine what it would be like for a gay boy to grow in a household like this.
As time passed, Seth got more and more into reading and became familiar with the world outside. Some of what he learned conflicted with what he was taught in the church. He also mentioned that Jacksonville and the churches there were "not very welcoming of anyone other than straight, cisgender white people."
He added that, "It was a very tense place growing up at home," Seth said.
When Owen's parents learned about his sexuality. This happened one night when his dad opened his phone and saw a photo of him and his boyfriend at the time. His dad realized Seth was gay.
As expected, and from the stories, we have heard this meant things headed south for Seth. Seth's parents were unable to accept his identity. They even enrolled him in conversion therapy.
Psychology and psychiatry organisations have declared Conversion therapy to be harmful and futile. They have also suggested that it may make the individual depressed, anxious and self-destructive. Seth was also encouraged to become more "masculine" by his counselor.
According to Seth, desperately wanting therapy to work was the worst part of it all.
Gay And Deadly
Seth's teenage experiences are pretty reflective of kids everywhere. Especially if they are born into orthodox families where sexuality and gender are heteronormative, with no space for negotiation. Not just that, many teens are known to undergo severe emotional swings which makes them vulnerable. The experiences they have had at this stage can make a huge impact on how they are perceived later.
In Seth's case, his struggle with his sexuality left him feeling depressed and suicidal. At home, the conflicts with his parents also took on the religious phase, and Seth received what he describes as an ultimatum.
If he didn't want to attend church, he would have to leave.
Seth had to move out and couch-surfed along with his friends.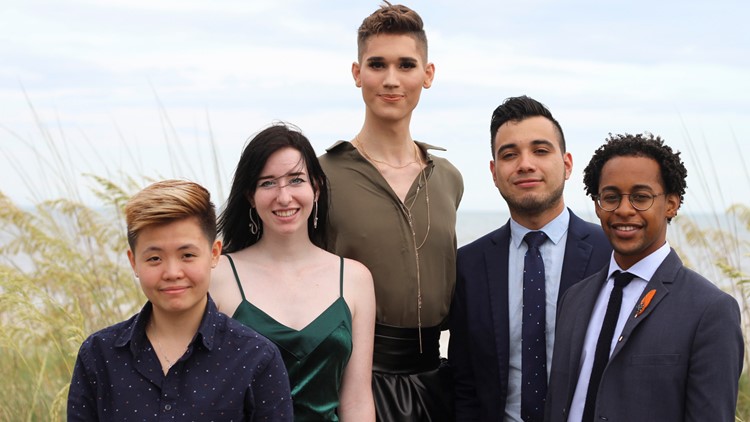 Remember, Seth was a smart cookie. His fallback on education was something he strongly counted on. When he left home, he began to apply to Ivy League Schools. But he was denied admission at all of them.
The Silver Lining
Finally, Seth's future cracked wide open! He was accepted by Georgetown University. And he also got into the Walsh School of Foreign Service.
Obviously, Owen was extremely excited. And then he realised that he had a bigger problem now. And it hit him like a brick. His parents were not helping him with the finances for his education. But his financial aid package was estimated based on his parent's income.
Seth added, "There was a $20,000 gap between me and Georgetown,".
Seth worked three jobs, and yet he knew it would not be able to pay out his tuition. He tried to negotiate with Georgetown as well. He also send pleas to his parents to co-sign a loan. None of the things worked out.
He began to lose hope.
GoFundMe
Owen's high school teachers began a GoFundMe page to help him get into college. Jane Martin, is also the leader of the school's gay-straight alliance. A goal of $20,000 was set.
Martin also said, "I know the goal seems unrealistic and the circumstances aren't ideal, but I also know communities can make the impossible possible,".
To Seth's surprise, donations started pouring in. He said, "A queer kid in Jacksonville, I didn't receive a lot of support for myself and my identities. But for someone to say not only, 'I support you Seth and your journey to college' but 'I support you financially, that was a totally different thing. And it made me believe in myself,".
The donations beat the original goal by $121,000! Seth had to be overwhelmed. His future at Georgetown was now clearer. And on the GoFundMe page, he said that the university made a few adjustments to his financial aid package. And the funds that he has received can cover so much more.
Future So Bright
Finally in 2018, Seth moved to Washington, D.C. and started his career at Georgetown. He majored in Government and African-American Studies.
Thanks to the support he received he decided to begin a scholarship fund called "Unbroken Horizons" . This aims to help other teens afford college or other career training.
Even Ellen DeGeneres supported Seth's idea and partnered with Cheerios. This was to kick off his fundraising with a $25,000 donation. And surprising him on her show.
Seth Owen hopes he can inspire other queer teens to pursue their dreams. And keep going no matter what the roadblocks.
"I'm not the only kid going through these struggles and it's my responsibility to stand up and fight for them as well,"
This story was produced in partnership with GoFundMe, who helps our HeartThreads team find the best stories about the best of us.
Read Next: Is There a Need for Mandatory 'LGBT history' Education Programmes?
https://www.abc10.com/article/syndication/heartthreads/seth-owen-georgetown-gofundme-gay-student/507-6f7dca7e-5507-41a9-9104-7a5da75afd60