The recognition, fascination, and love for Drag and their Makeup has grown leaps and bounds in recent times. Drag Queens, are performance artists embodying an exaggerated female persona with the purpose to entertain.
But the history of Drag is rooted deep in the past:
Before RuPaul Andre Charles's success brought widespread recognition to the art form in the 80s and 90s, Drag can be traced back to the Shakespearean times. In the 17th century, Shakespearean plays allowed only male actors to perform. This meant that female characters, if any, had to be portrayed by male actors. The terms Drag could have originated from these times when men playing female roles would supposedly talk about how their dresses would 'drag' on the floor.
The association of this art form with gay culture is said to have occurred in the 1930s. While Drag culture moved underground in the 50s and 60s due to the criminalisation of gayism.
While history notes some iconic drag queens for their vaudeville performances such as the Rocky Twins, Julian Eltinge and Lavern Cummings. It is RuPaul, who's recognition paved the way for Drag culture to become mainstream.
Read More about Drag: Drag Queens and Their Culture
The 'Beauty' in Drag:
Have you ever wondered where trends of cut creases, blinding highlight, and sharply contoured cheeks came from? If you think its Instagram, YouTube influencers or the Kardashians, think again.
Way before YouTube tutorials talked about baking or contouring, drag queens were using these techniques in their dressing rooms. Such makeup 'secrets' were passed on from drag mothers or peers to the newcomers they mentored.
"  The more, the better!"
– Creme Fatale's makeup advice, Cosmopolitan
Makeup in Drag involves exaggerated features so that artists wouldn't look washed out under powerful stage lights, and their expressions are visible to audiences sitting at the end of the room. The style seen in drag is also a means of transformation, expression, and even liberation.
Drag representation in cosmetics came to life when RuPaul became the first Drag Queen to become a spokesperson for MAC cosmetics. That's right! It's thanks to RuPaul and her Drag Race that Drag Queens and their Makeup/ Makeup Techniques have become so sought after.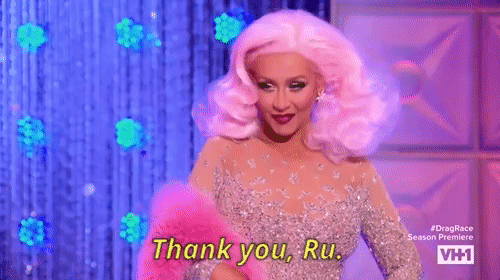 Tips to get your Drag Makeup on fleek:
1. Getting your base right:
The first step to a good base is good skin. Taking care of your skin, drinking loads of water, keeping it well moistured and taking off your Makeup at the end of it all are essential pieces and must never be skipped. Drag Queens Monique Heart, Mist Violet, and Mila O'Day
Kurtis Dam-Mikkelsen a.k.a Miss Fame says that picking out a shade of foundation that matches your skin tone best, is key. A shade or two lighter can be used to highlight while a shade darker will be perfect to carve out those cheekbones.  Ms. Ritzy Bitz says that a good sticky and smoothing primer is the way to go if you want your makeup to stay in place for a long time. Work that foundation into your skin. A flawless blend that is taken down to your neck will give a seamless look.
2. Don't forget to Conceal and Contour:
Creating the illusion of a slim and structured face is all about how you work with shades. Everybody knows that Drag Queens are best at a sharp contour.  Hexxa says,
"To get a dewy contour, draw a line right under your cheekbone with the angled end of a beauty blender, and slowly go upwards to make a really pretty, creamy, dewy line."
– As reported by Cosmopolitan
A good concealer shade should help with 2 things; Firstly, it should be able to blur out any, marks, fine lines, blemishes, etc. Secondly, it should help bring your features forward. Use a lighter shade of concealer to highlight under the eyes, down the bridge of the nose, on the chin and even on the center of your forehead just to bring those features forward.
3. Eyebrows say it all
Drag Queens have the most iconic brows. The ombre block brows are a feature that brings Drag Makeup to life. The best advice from Ritzy is "Don't get too carried away trying to make them look even, they will not. Do your best, have fun, and clean up the edges if you need to". If you want to go all out, apply spirit gum to your brows using a Q-tip and use dark Kajal for the arch above each brow. Accentuate your brows by using the lightest eye shadow under the arch and above the brow. Whether it's creating something new or working with your natural brows, remember to try and follow the natural shape, and keep practicing.
"Don't be afraid to put glitter in the brow!"
-Lucy Lips's advice, Cosmopolitan
4. Lip liners and a stunning highlight:
Invest in Lip Liners. Its to increase the longevity of your lipstick and give shape to them. One trick is to apply foundation on your lips, giving you a blank canvas to work with but also increases the longevity. Always ensure that the lip liner matches your choice of lipstick. It's 'go big or go home' when it comes to highlighting. It can blinding but shouldn't steal focus from the rest of the look.
5. Lock it all in:
Translucent powder and baking are the way to go to seal in all that makeup. But when it comes to setting sprays, many Drag artists suggest using hairsprays. I know! it sounds weird but supposedly it ensures that your look doesn't budge. However, it's not a technique you should use daily.
The final tip to a great Drag Look is 'be you'. Get inspirations from different looks, queens, and tutorials, and create a look that is an expression of yourself. There is no right and wrong, just different and unique!
Also Read: Meet 11 years old 'Drag Kid' Who RuPaul Calls 'The Future Of America' 
Source Credit: Allthatsinteresting, Bustle, Cosmopolitan, Elle, Makeup.com, Style Craze