She wore a Tuxedo. The School left her out of the Yearbook.
Traditionally expecting, girls have to wear a black velvet drape for their senior year portrait. However, one high school student decided to wear a tuxedo instead. What happened next? She receives a copy of the yearbook only to discover that her photo was missing.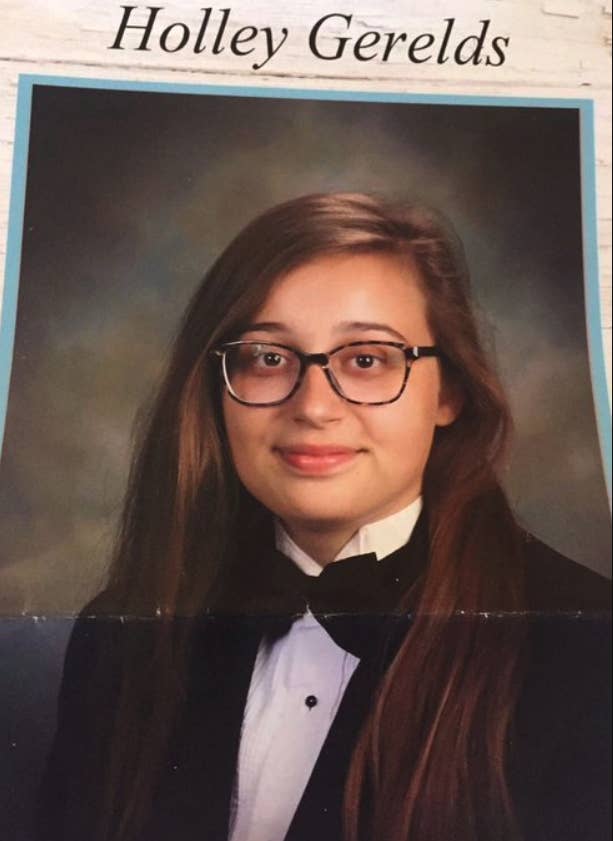 "It's what I'm more comfortable in."
Holley Gerelds, a high school grad from Springville High School decided to take her senior yearbook photos donning a tuxedo. The 18-year-old lesbian, in an interview with Buzzfeed, said that she's been wearing suits for the longest time. It was something she wore even to school from time-to-time.
"I've always worn masculine clothing, it's just what I'm more comfortable in and I feel like it expresses me more."
-As reported by Buzzfeed
Gerelds told WVTM that she is a proud member of the LGBT community. She wanted her senior year portrait to express who she truly is. And, wearing a drape, according to her is "not me". So she asked her photographer if she could wear a tuxedo instead. The photographer told her that she could wear formal black attire that featured a white button-up shirt and bow-tie.
On the day of the photo session, everything went as expected. She took her photo, paid and left.
The Yearbook printed 'Not pictured' beside her name
Geralds heard rumours about her photo probably being 'cut off'. But she dismissed them. On Thursday, she finally decided to peruse through her yearbook. What she saw or rather did not see, shocked her. The picture she took was in the yearbook! Instead, she found, her last-name misspelled and listed under the "not pictured" section.
i took my senior portraits wearing a tux instead of a drape. guess who wasn't pictured lol @happyhippiefdn pic.twitter.com/aLb5OiXeiU

— hg (@holley__g) August 15, 2019
Gerelds wasn't really surprised. She was pretty nonchalant about the school's decision to exclude her photo from the yearbook. She said,
"I hate to say it, but I'm used to it. I saw it coming. [She continued]. I honestly just laughed… I feel like I did nothing wrong."
-As reported by Pink News
Her reaction was not because of anything her school had previously done. But because of reports she has read that pertained to LGBTQ+ being discriminated against, harassed or even killed.
According to school traditions, grad photographs usually featured in the hallway. However, Gerelds disappointedly thinks her photo will not be one of them.
"I felt like they're kind of erasing me from it because I'm not in this and I'm not going to be posted on the hallway for years and years to come."
-As reported by CNN
Her tweet gains traction:
Initially, she didn't take the yearbook incident too seriously. She tweeted about it and moved on. However, others who later discovered her tweet told her that she shouldn't accept it. Soon the media caught up to her story. A letter template which could be sent as a sign of protest was posted by a social media user.
Gerelds has made it very clear that she never intended for her story to become media news. She, in no manner, wants to disparage her school or the state. Especially since some have assumed so, after reading about the incident. However, what she would like is for future students to be given more latitude when it comes to their attire.
Springville High promises a re-print:
Springville High's principal apologised to Gerelds parents. They said that Gerelds is always welcome to the school, acknowledging that the grad was well-spoken in her interviews. Geralds, on the other hand, is glad that the school is reconsidering its policy.
Mike Howard, superintendent of the St. Clair County Schools, released a statement. He said that the portraits were taken last year
"in accordance with long-standing school guidelines."
-As reported by Out Magazine
However, these guidelines are undergoing re-evaluation. Howard also promised the reprinting of the yearbook. This includes a replacement page correcting any misspelling, and the student's portrait. He added that Gerelds' photo will be part of the composite class photo which will be hung in the hallway as per school traditions. He said,
"I can confirm that the composite photograph of the Springville High School Class of 2019 will include all students that participated in the senior portrait process, regardless of their choice of attire."
-As reported by Buzzfeed
However, this incident is far from being the first of its kind:
There have been multiple events where schools have struggled with dress code policies for students who are gender-nonconforming. The American Civil Liberties Union, years ago, filed suit on behalf of Ceara Sturgis. Sturgis wore a tuxedo, which led to the removal of her photograph from the yearbook. According to this student, she was never the girly type.
Similarly, in 2013, a Texas school refused to include a transgender student's portrait in their yearbook. According to them, the student failed to wear feminine clothing violating "community standards". In this case the student also wore a tuxedo. Jeydon Loredo, the transgender student shared that he wanted to wear an outfit that captured his gender identity.
Discriminating against students for not wearing attire that conforms with their biological gender should not be considered inappropriate. Gerelds also wants to shed light on such issues. She wishes that other no student go through the same experience she has.
"There's another girl just like me that wants to wear a tux and she gets to wear a tux or another boy like me or anybody who identifies as anything in the world, that they get to wear what they want. That's what I want."
-As reported by Pink News
Also Read: Gender transition leads to suspension from College
Source Credit – Buzz feed, CNN, Daily Mail, NBC News, Out Magazine, Pink News, Washington Post