Apple's New Update is Making Us All Happy!
Yes, Apple has a brand new update! And its something that we have all been waiting for. An inclusive series of emojis that represent gender-neutral and gender non-conforming people as well.
The iOS 13.2 hit the screens on Monday and has taken the LGBT+ as well as the differently-abled community into consideration. As a part of this, they have released 60 brand new characters reports CNN. These new characters and emojis will make all the non-Apple-users a little green with jealousy. We know for sure the new iOS 13.2 will receive genuine appreciation from the LGBT+ community. Especially the non-conforming lot of them. Androgenous looking emojis that will make you feel good and special about being you. Good going Apple!
Gender, and non-gender
Apple's new set of emojis have a non-gendered individual, so all the pairs of women and men are now in threes. Non-gendered cops, doctors, and more. The emojis are honestly, pretty darn cool.
Even within the LGBT+ community, we have taken quite some time to acknowledge and represent gender non-conforming people. Many fields struggle to wrap their heads around the idea and force people to pick a gender. Having over 60 gender options on the list might be unviable. But it is also important to understand if gender identity is important, to begin with. Rules, regulations, and laws alter between males and females mainly because of their biological functions. Secondly, due to the discrimination between men and women in different areas of life, but prominently in financial positions.
So with gender-neutral, and gender non-conforming people entering the scene, the dynamics have to be altered and redefined. Although the leap will take its course of time, representation through media is pretty convenient and is being encouraged.
📲 iOS 13.2 is out now with these 398 new emojis https://t.co/mYK0uXJ8t1 pic.twitter.com/eGwIH7g8ip

— Emojipedia 📙 (@Emojipedia) October 28, 2019
Read: Coca Cola's latest LGBT ad is the talk of the town
We have seen a growth of LGBT+ characters on mainstream media, and yes, gender-neutral characters are barely a hand few. Language has its own barriers, and we may have introduced "them, they, and their" as pronouns. But many of us prefer to use emojis to communicate better. And Apple's new update is an add-on that we appreciate.
And some more
Not only does this line-up include gender-neutral choices, but according to The Advocate, it also offers a greater diversity of skin-tone options. These emojis that are perfect for interracial couples and families as well.
That's not all. This time, Apple seems to have covered a larger base. The emojis now have a person in a wheel-chair, prosthetic limbs, and an assistance dog! 
Apple has hit it out of the park with this one. When you install the new iOS you will also find new additions to the animals and food category as well. You will see the addition of sloth and otter. Under the food category, you will see a waffle, butter, and an ice cube.
According to reports, Apple has done its due research before popping out the new update. They consulted with members of the differently-abled community in creating the new emojis. This rose from their effort last year. Apple petitioned the Unicode Consortium, which is the nonprofit group that oversees the global emoji standard. Did you know that they existed? Apparently, they help emojis to be more inclusive of disability in its characters. Back then, Apple even made a comment about the need for diverse emojis.
"Currently, emoji provide a wide range of options, but may not represent the experiences of those with disabilities,"

"Diversifying the options available helps fill a significant gap and provides a more inclusive experience for all."
Reading Suggestion: Binge Over these LGBTQ+Podcasts this weekend!
Diversity and Inclusivity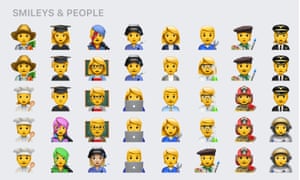 The number of times we have stressed over these two vital elements if converted into money could make us rich. Diversity and inclusivity in any and every possible way should be encouraged. Many more social sites can pick ideas from this development and create a better atmosphere for people to interact. We have seen LGBT+ friendly dating sites, bars, and restaurants. But sometimes these lead to further segregation. So including the under-represented in the normative can help tackle the need for a separate space.
The biggest hurdle to overcome for many companies is the "closeted" factor. And when it comes to identifying one's own gender, this aligns with gender non-conforming individuals who don't want to pick any of the options.
Options always provide freedom to people. Apple has always had a killer interface when it comes to interaction. From games to play to adorable animal filters, Apple has offered its consumers with some amazing features. But this is something that people outside of the Apple consumer base can genuinely be jealous of. All of us would love an upgrade like this!
Tell us what you think and don't forget to comment below.
Read Next: Apple iPhone Made Me Gay!
https://www.advocate.com/business/2019/10/29/apple-drops-gender-inclusive-disability-mixed-race-and-otter-emojis
https://www.theguardian.com/technology/2019/oct/29/apple-emoji-non-binary-lgbtq-gender-neutral