Are You Not Heterosexual? Are You A Teen? Do You Know Teens? Here's A Book.
The LGBTQ+ community has only recently attained an increase in awareness. Countries are finally initiating the developments in inclusivity and diversity. Companies are coming forward with job opportunities and are open to conversations about sex and gender. Even schools have begun to become more aware of the issues and have counselors who can help the kids. Education is becoming more accessible and media including a diverse representation. It is no surprise that we need content that comes out of the LGBTQ+ community. When the world of literature sees growth in writers and books, we hope to see a rise in LGBTQ+-centric books.
We have videos, movies, and panel discussions based on LGBTQ+ inclusivity. But books will always hold a separate space. LGBTQ+ literature has to retune itself and provide current and realistic writings that straights can also consume. The fact is that we have LGBTQ+ centric books and non-LGBTQ+ centric books. And our mission now would be to commonise the LGBTQ+ representation such that there is no need for LGBTQ+ centric books.
Read: LGBTQ+ books that are perfect to read to your kids
What I mean by this is that whether the protagonist(s) are straight or not should not be the center of the story. There is more to a person than their sexuality. Yes, admittedly, sexuality can affect and influence the world around, and change how you interact with things. But this is what makes a character anyway. A shy, geeky straight boy does not surprise us, and neither should a shy geeky non-binary queer man. We have to normalise the LGBTQ+ stories and experiences.
And that's why we need more people like Maulik Pancholy who come out with novels about teenage lives that also discuss LGBTQ+.
Who is Maulik Pancholy?
Maulik Pancholy is a popular TV star you have seen on shows like 30 Rock. The actor decided to work up a piece that discusses the experiences of being gay. He also looks at his own experiences for the same. His book "The Best At It" had Pancholy research extensively about teenage LGBTQ+ literature. He also spoke to educators about preteen life. This taught him that there was a shortage of books that addressed issues of mental health and sexuality.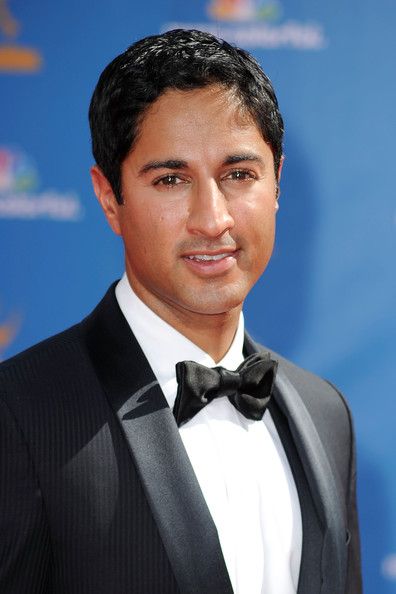 The Best At It
In the book, the protagonist, Rahul Kapoor is a teen from Indiana. His best friend is Chelsea and he has a Grandfather who tells him stories every night. The character of Rahul's grandfather, Bhai is based on Pancholy's own grandparents. Pancholy says the conversations in the story reflect the conversations he wished he could have with his parents and grandparents. He added that it is modeled to guide them to have the conversations of sex and gender if they don't know how to have them.
It's important to notice how Pancholy has twined the different lines of life into the story of the Protagonist. It doesn't take away from his sexuality, neither does it super-emphasise on it. The platitude and normalcy of the story can be seen as a prototype if not the perfect example of stories with diversity.
Read: Books About LGBT Community That You Should Read
The story also touches upon bullying. Gay teens are often bullied for being more effeminate or masculine than what their gender roles prescribe. Pancholy was influenced by the research he conducted as a member of the President's Advisory Commission on Asian Americans and Pacific Islanders during the Obama administration. According to NBC News,
This research was focused on how bullying in schools uniquely affects young Asian Americans and Pacific Islanders.
This was the source for the construction of the interactions between Rahul and the class bully Brent Mason. This also extends to the bullying of kids who are of mixed-race and are not completely "American". Different forms of discrimination exist in every country. Pancholy's novel runs in close lines with how things run in India as well. The protagonist is clearly Indian, his name is Rahul Kapoor. This is two roles of Shah Rukh Khan.
Indian culture is prescriptive in nature and dictates the lifestyles dominantly.
In the novel, Rahul's world is shaped by the people around him. The roles his father and grandfather play are quite normal in the Indian familial living. Having several levels of authority figures, and the disconnect between generations to engage in conversations of sex and gender is considered as the norm.
To ensure that I do not unveil the entire novel, I will leave you with a few thoughts. Learning about LGBTQ+ should not have to be a special case. There are unnecessary anxiety and excitement that surround the idea. When we look at the perspective from which the novel is written, it's a sheer teen story. But all in all, the highlight is still that the boy is gay. This is great news. We do need to create awareness. The only difference is that we create awareness about LGBTQ+, and forget to talk about its normalcy. To conclude,  awareness must trigger people to become more attentive to their actions and reduce their dismission. Awareness should not make them hypervigilant of LGBTQ+ such that they overcompensate. So tell us, what do you think?
https://www.nbcnews.com/news/asian-america/actor-maulik-pancholy-s-debut-novel-champions-pro-lgbt-anti-n1060916