Chris Mosier-First Trans Man To Compete In The Men's Olympic Trials
Chris Mosier is the first openly transgender athlete to compete in the Olympic Trials. He competed as the gender with which he was identified.
First trans athlete to be qualified for the Olympic Trials
Chris is a 39-year-old All American duathlete and Hall of Fame triathlete. He started the 50-kilometer race walk that was held outside San Diego, California. Chris made history by doing so.
Chris Mosier is fairly new to the sport and is already breaking barriers. It is as impressive as breaking barriers with his identity. Chris is a Chicago based athlete. He was the first to race-walk in September. He won a national championship for the same. After which he had a second race which was a month later. In this race, he finished 12th in the nation. in doing so he was qualified for the Olympic Trials.
Let us get things clear. Mosier was not the first trans man to participate in the Olympic Trials. Track and field star Keelin Godsey achieves that title. Where Godsey played in the women's events, Mosier competed as a man among other men. That is what is interesting about this story. Mosier was the first tarns man to do to so in the Olympic Trials.
Unfortunately, Mosier's Olympic campaign was cut short when he had to withdraw from the race midway because of a knee injury. But this has not stopped his desire to continue racing. In an interview with The New York Times, Moser elaborated on the same.
Chris Mosier is an outspoken advocate for trans athletes
Chris Mosier is a world-class athlete. He was the first trans athlete to be sponsored by Nike. Moreover, he is an outspoken advocate of trans athletes and the LGBTQ+ community. Even before his historic Olympic Trial run, Mosier was very much active on social media platforms. He called out HB 1057. Chris also proposed a transphobic policy in South Dakota. This policy aimed at criticizing health care providers for offering gender-affirming care to TGNC youth.
"The truth is that gender-affirming care is life-saving for trans kids. Do not deny young people in South Dakota their right to a happy life," the runner tweeted.
Mosier also discussed the deeply concerning crop of legislation. This was aimed at preventing young trans athletes from competing in sports as the gender with which they identify. He feels that now is the time to speak out more than ever. There is no opportunity for him to go silent now. He says, "he said. "It's so important for me to use my platform to speak out against these bills and make sure that people are informed."
Outsports says that at least six states are actively considering this legislation that would stop athletes from competing as a gender other than the one they are assigned at birth.
As a trans man himself, he feels that this legislation will make a huge difference in the LGBTQ+ community and also the sports community.
Mosier back to racing and more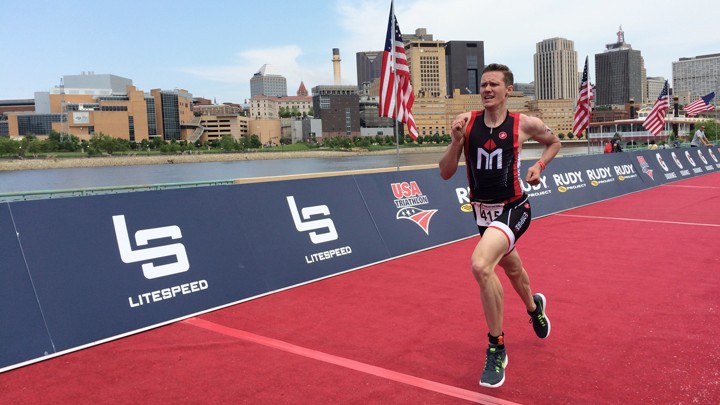 Chris Mosier plans to return to the duathlon. He wants to set is sights on making Team USA for 2021. The racewalker told the Times, regardless of the sports he is playing, the goal remains the same.
"For me, it's all about making a pathway for all the trans athletes that come after me."
"I think it's more important than ever for me to be out and visible as a trans athlete as we have states across the country launching attacks on transgender youth in sport — those young people need to see me more than ever to know there is a place for them in sport, despite these attacks," Mosier told them.
There are over eight bills popping up across the nation. These bills attempt to prevent trans youth from participating in sports. He feels that this is not only an attack on high school athletes but on all transgender people.
These bills are the foundation upon which lawmakers attempt to take away more protection of basic human rights.
Chris Mosier aims to stop all this and make a difference. That is one of the reasons he wants to stop this legislation from spreading.
As the first trans man, he is an inspiration to all those trans men and women who want to compete in sports as the gender they identify themselves as and not what they were assigned as at birth.  It is going to be hard for everyone to accept this change. But as time passes, we can see this change and hope to see more in the future.
Let us hope for the best and see who the next trans athlete would be to break this streak.
Next read: First Trans Couple To Be Gendered Correctly On Birth Certificate
<a href="http://www.pr8directory.com/">PR8 Web Directory</a>
https://www.them.us/story/chris-mosier-trans-man-compete-mens-olympic-trials#intcid=recommendations_default-popular_2d25512d-6f60-4f78-a245-a3aaa076c3d1_popular4-1