Denied Entry To The US? Blame it On the Gay!
Absurd? Yes. And so is this anti-LGBT+ activist who thinks the queer community is behind her denied entry to America. Consequently, she took to Twitter to complain about it. And it only gets worse from here.
Anti-LGBT+ groups and activists blame a lot of things on the LGBT+ community. Take for example the Australian Rugby player, Israel Folau. The player thinks the wildfires burning across Australia is because it is God's plan to destroy Australia like Sodom. And that God is angry with gay people being gay. It's time to muster up the biggest eye-roll you can.
He said, "In Australia, this past couple of weeks, with all the natural disasters, the bushfires, and the droughts," Folau preached. "God's word says for a man and a woman to be together, one man and one woman in the covenant of marriage to be together."
How does anyone take these people seriously?
Anyway, coming back to the denial of entry. British homophobe Caroline Farrow got really mad for being denied entry to the United States of America.
For those who need a bit of context, Farrow is a columnist for Life Site News. Life Site News is a Catholic website. Farrow became an internet burden when she cyberbullied a transgender lawyer on Twitter. Farrow got abusive towards the lawyer. However, this got her barred from contacting the lawyer ever again.
Disneyland Paris held a Pride Parade this summer. This instigated Farrow to attempt to "organize a campaign to pressure Disney to cease "homosexual indoctrination." For her, the parade is "a deceptive move to push the LGBT political agenda and expose children and families to lewd behaviour."
Consequently, she went onto planning a delivery of a petition to Disney officials in Orlando, Florida. This was to "pressure the company to stop interacting with LGBTQ people."
The girl just does not stop.
Even though she fails multiple times, or barred by a UK judge for being abusive. And now by the US.
Farrow tried to enter the states. And that's when she realised that her ESTA, (Electronic System for Travel Authorization) was revoked. PinkNews reports that the reasons for the revocation remain unclear.
Nobody knows why Farrow's ESTA was revoked. But she decided to channel that fury towards the gays. She thinks that gays fiddled with her entry to the country somehow. According to her tweet which read,
"How vindictive do you have to be to go to the lengths that you would ring the US embassy and attempt to have me denied entry to the country for tweeting the truth about male and female,"
She seemed to have some crazy evidence too.
"two people file a police complaint last week, tip off the embassy or Homeland security and my ESTA is revoked. The vindictive obsessive mentality is quite something to behold."
Has Caroline lost her way? (Double Pun) She seems to be fighting air with a double-edged sword. On one hand, she's got the support of a media channel that lets her vent all her anger. And yet, with claims like this, she seems to be weakening her own agenda.
Life-Site's take
Firstly, Lifesite calls Caroline Farrow a pro-life activist. "The UK director of an international pro-life organization was refused entry to the United States today", reads the
Lifesite
Website.
Secondly, Farrow's ESTA revoke doesn't entirely make sense. Since nobody knows why. But she said, "I've never been arrested," and "I've never even been interviewed [by police]. I don't have a criminal record."
And thirdly, according to Life Site, Farrow went to "Orlando to hand-deliver to Disney World a CitizenGO petition with almost half a million signatures." She was to attend the Foundation for Applied Conservative Leadership conference in Kissimmee, right after.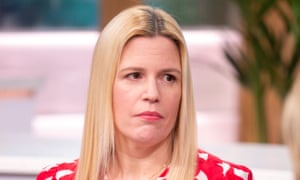 LifeSiteNews states that Farrow is constantly harassed by LGBT activists. And this strongly impacts her life.
She told,
"I'm living in fear," she said. "I can't go about my daily business. I'm being treated for anxiety."
Even a spokesperson from Fair Cop, Harry Miller had a comment about Caroline Farrow's denial of entry. He said that it was "absolutely shocking". He also believes that she was denied entry into the U.S. because the LGBT+ community contacted the U.S. Embassy in London.
He added, "There are activists who do not like Caroline and anyone else who stands against transgender ideology".
And finally, the website also seems to indicate that there is proof of LGBT+ groups meddling with her travel plans. They quoted a Farrow Twitter user, who, in their perspective apparently said something along the lines of barring Farrow from the U.S.
But here's why it's just slander. Simply take a look at his tweet.
"An absolutely spectacular building… and one of London's great modern embassies… but honestly, I always did prefer the retro and kitsch qualities of Grosvenor Square… as always, consular staff very efficient at dealing with my… important diplomatic business".
We are finally at the end. The impending question of why her ESTA was revoked still hangs over the issue. Either way, homophobia, and transphobia are serious issues. This could deny LGBT+ individuals from basic rights.
Tell us what you think.
Read Next: NAUGHTY AMELIA JANE – A PERFECT SATIRE ON HOMOPHOBIA
 https://www.queerty.com/homophobic-rugby-player-says-wouldnt-wildfires-gay-people-just-stopped-existing-20191118
https://www.queerty.com/homophobic-activist-denied-entry-us-shes-pissed-20191121