Everything You Need To Know About India's Transgender Rights Bill
In 2011, the United Nations High Commissioner for Human Rights, Navanethem Pillay, said that while racism, xenophobia and sexism have been condemned by many countries, issues like "transphobia are too often overlooked." – This is true, particularly for our country- India.
Despite a pre-colonial heritage that recognized and celebrated gender diversity in temple sculptures, mythology and religious treatise, transgender people in India, today, face intolerance, stigma, discrimination and violence. Human rights violations against transgender people pervade families, educational institutions, workplaces, institutions such as law-enforcement, healthcare, media, and society at large.
The Transgender Persons (Protection of Rights) Bill, 2016
The Rights of Transgender Persons Bill, 2014, piloted by Tiruchi Siva, MP, was introduced in the RS on December 10, 2014. MPs across party lines discussed the bill in detail and rallied for its passage. This proved to be a game-changer leading to the RS passing a private member's bill for the first time in the last 46 years. However, there was an unanticipated delay in discussing the bill in the Lok Sabha.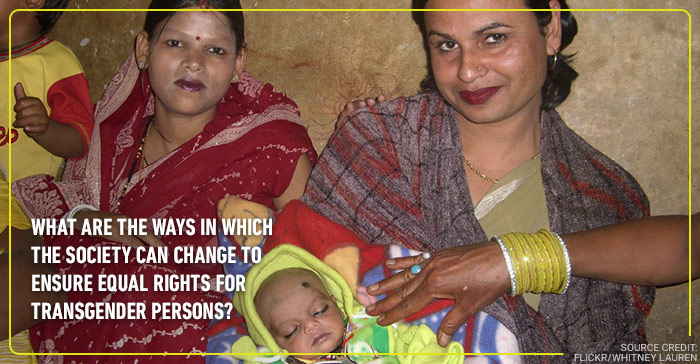 It was introduced in Lok Sabha on August 2, 2016 by the Minister for Social Justice and Empowerment, Mr. Thaawarchand Gehlot.
The Bill defines a transgender person as one who is
neither wholly female or male;
a combination of female and male; or
neither female nor male. Such a person's gender does not match the gender assigned at birth, and includes trans-men and trans-women, persons with intersex variations and gender-queers.
Legal perspective: –
Part 3 of the Indian Constitution gives us 'Fundamental Rights' and Article 14 prohibits discrimination based on sex, caste, religion, race or place of birth.
The bill prohibits discrimination against a transgender person including denial of service or unfair treatment in relation to –
Education
Employment
Healthcare
Access to, or enjoyment of goods, facilities, opportunities available to the public;
Right to movement
Right to reside, rent, own or otherwise occupy property
Opportunity to hold public or private office; and
Access to a government or private establishment in whose care of custody a transgender person is.
The bill shall ensure non discrimination by taking following steps-
Certificate of identity for a transgender person: A transgender person may make an application to the District Magistrate for a certification of identity, indicating the gender as 'transgender'.  The District Magistrate will issue such certificate based on the recommendations of a District Screening Committee.
The Committee will comprise:
(i) the Chief Medical Officer;
(ii) District Social Welfare Officer;
(iii) a psychologist or psychiatrist;
(iv) a representative of the transgender community; and
(v) an officer of the relevant government.
Special provisions shall be taken by the relevant government to ensure the full inclusion and participation of transgender persons in the society which includes – rehabilitation, vocational training and self employment and create schemes for the welfare and to promote active participation in cultural activities.
Setting up of National Council for Transgender persons (NCT) and shall act as a consultation body for formulating legislations and laws:
Members of the Council-
(i) Union Minister for Social Justice (Chairperson);
(ii) Minister of State for Social Justice (Vice- Chairperson);
(iii) Secretary of the Ministry of Social Justice;
(iv) one representative from ministries including Health, Home Affairs, Minority Affairs, Housing and Poverty Alleviation, Human Resources Development, etc. Other members include representatives of the NITI Aayog, National Human Rights Commission, and National Commission for Women. State governments will also be represented.
The Council will also consist of five members from the transgender community and five experts from nongovernmental organizations.
Offences and Penalties
The Bill recognizes the following offences:
(i) begging, forced or bonded labour (excluding compulsory government service for public purposes);
(ii) denial of use of a public place;
(iii) denial of residence in household, village, etc.;
(iv) physical, sexual, verbal, emotional and economic abuse.
Imprisonment: These offences will attract imprisonment between six months and two years, and a fine.
Key Issues and Analysis
The Supreme Court has held that the right to self-identification of gender is part of the right to dignity and autonomy under Article 21 of the Constitution. However, objective criteria may be required to determine one's gender in order to be eligible for entitlements.
The Bill states that a person recognized as 'transgender' would have the right to 'self-perceived' gender identity.  However, it does not provide for the enforcement of such a right.  A District Screening Committee would issue a certificate of identity to recognize transgender persons.
The definition of 'transgender persons' in the Bill is at variance with the definitions recognized by international bodies and experts in India.
The Bill includes terms like 'trans-men', 'trans-women', persons with 'intersex variations' and 'gender-queers' in its definition of transgender persons.  However, these terms have not been defined and could be a major problem.
Certain criminal and personal laws that are currently in force only recognize the genders of 'man' and 'woman'.  It is unclear how such laws would apply to transgender persons who may not identify with either of the two genders.
Read More: What Hinduism, Buddhism, Sikhism and Jainism really think of LGBT people will surprise you
By Juhi Ashtputre