F.R.I.E.N.D.S is Finally Doing Something Amazing For The Community
When the title track ran, not all of us were sure if they really meant "I'll be there for you". Especially towards the LGBT+ community. 'Friends' came out in the 90s and was and is it a hit show! We love the characters and the bond they shared.
But the show grossly misrepresented LGBT+ characters. Chandler's dad who Chandler was incredibly uncomfortable around or Ross' reaction to the male nanny Rachel hires. It is pretty problematic, and if one were to analyse it in today's situation, it would come off as unsupportive of the community.
Although the show seems to be pulling up their socks and doing something to help the community.
The Friends Auction
The Trevor Project and Warner Bros have together decided to "celebrate 25 years of laughs with an exclusive auction of props, costumes, scripts, a canoe, some turkeys, and more from the production of Friends". The money generated from the auction will go towards the Trevor Project.
The Trevor Project is a US organisation which offers services in crisis intervention, as well as suicide prevention to young individuals of the LGBT+ community.
Starting from the 3rd of December, more than 80 items will be up for auction through the online auction company Prop Store. The auction lasts until the 17th of December. The website shows that the auction items include a model turkey wearing sunglasses, a reproduction of the orange couch from Central Perk, and a box of Smelly Cat cat litter. All inspired by the show! That's not all, Hugsy, Joey's penguin plushie, and Rachel Green's blouse and trousers will be up for snatches.
Rachel's outfits were always on point. All the time. And Hugsy is one of those things that any Friend's fan had an eye on. So the fans have quite a collection to pick from. This also means you have to get your bidder's minds on and get ready to put a dent in your pocket too. Especially if you are aiming for Ross' Holiday Armadillo costume. The costume is predicted to sell for $10,000- $15,000. That's a whopping price to look like an Armadillo. But since it is towards a good cause, maybe it's not such a bad idea.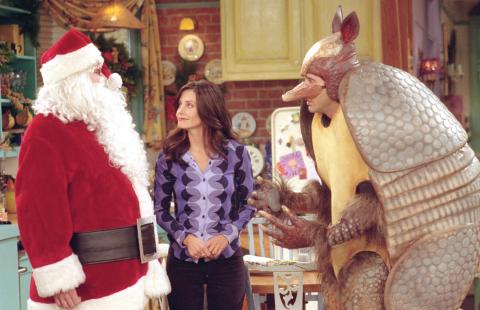 You can sign up for the auction online. This will automatically get you into a sweepstake where you stand to win a 'Friends' production script.
Friends Not So Friendly
The show was in some serious controversies for producing not very-nice LGBT+ content. Their depiction of gender and sexuality was bordering homophobia and transphobia. Now that people are far more aware of the LGBT+ community, the auction might help Friends do better. You can also check out a few of the items from the auction at Friends pop-up store in Boston starting November 21st.
But let's discuss the cult classic's problematic portrayal of LGBT+ characters. Do you know if Chandler Bing's father was a Drag Queen or a trans woman? Yeah, neither did we. Until the series creator, Marta Kauffman confirmed that Chandler Bing's "father" was actually a trans woman. Kathleen Turner played the role of Helena Handbasket. I would never do it now, says Turner. And added, "Of course I wouldn't do it now because there would be real people able to do it."
Chandler is traumatised by his father's transition. Which would be understandable if it wasn't the butt of many of his jokes. Not just that, Helena's character is nothing short of confusing. Her portrayal blurred the lines between trans and drag. Often confusing one for the other. Chandler's sarcasm and dark jokes make up half of his character. So spouting out homophobic jokes was just an addition to this.
Sign of The Times?
The creator of the show "Kauffman, recently admitted: "I think we didn't have the knowledge about transgender people back then, so I'm not sure if we used the appropriate terms." "
The show often depicted age-old ideas of masculinity and femininity as well. In one of the episodes, Joey seems to take after his female roommate who decorates the place with paintings, potpourri, and stacks some clean fresh towels. When Chandler sees Joey arranging flowers, he accuses Joey of becoming a woman.
Ross also has some serious issues with his daughter being raised by a male nanny. He thinks it is unnatural and Joey compares it to women being penis models. Ross' issues with masculinity also come to light when he sees his son, Ben play with a Barbie, and he tries to give him some "masculine" toys instead.
And as Pink News points out, "A lesbian wedding on TV in 1996 was admittedly groundbreaking, but Carol and Susan's relationship was often played for laughs, with the phrase "lesbian life partner" commonly being enough for a punchline."
Is this a redemption? Is it deflection? Tell us what you think make of it.
Read Next: THE QUEEREST DIALOGUES AND MOMENTS ON TV SHOWS
<a href="https://www.promotebusinessdirectory.com/">Directory Website Promote</a>
https://www.pinknews.co.uk/2019/11/20/friends-sitcom-lgbt-queer-community-lesbian-wedding-tv-sitcom-millennial-nineties-chandler-bing/
https://www.lgbtqnation.com/2019/11/kathleen-turner-played-trans-character-friends-says-wouldnt-now/