Gay Beer Makes Its Way To The Market!
Gay beer? Are you intrigued too? Do you think drinking gay beer will make you gay? These two gay men, also a real-life gay couple have been brewing beer. And they decided to call it "Gay Beer". No kidding.
The gay duo, Jon Moore and Jason Pazmino have realised a gap in the market, that maybe many of us did not see scope in. They decided to turn beer gay and it's pretty darn cool.
Reclaim The Beer
The idea behind the beer is to reclaim it. The couple put in serious thought into it. Moore and Pazmino. the founders of the Gay Beer introduced it to the market almost a year ago. According to Queerty, Gay Beer is "a gluten-reduced golden lager". This craft beer is brewed in upstate New York. It is sold at more than 50 retail locations. The beer is also available at Whole Foods.
When the beer celebrated its one-year anniversary, Pazmino spoke with Forbes about reclaiming beer.
"I thought it was an opportunity to take the word back and show there is no fear in the word 'gay'".
Moore added,
"The beer market has a reputation for being supportive of frat boys, the manly men". "We thought of calling it Gay Beer and not being ashamed about it."
The LGBT+ community is still having to challenge the notions of masculinity. Despite the metrosexual revolution that occurred over two decades ago, men being effeminate is perceived as "not man enough". And Gay Beer seems to want to unravel this notion and break it down to nothing. The beer's tagline reflects just that.
"Be happy. Drink Gay Beer" and "Go straight for Gay Beer."
The LGBT+ Economy
The French bottled water company Evian received backlash for a simple gay representation on their bottle design. It was launched a year ago and still has homophobes reacting to it. But Evian gave it back to them with a no-fuss meme telling the guy who trashed their bottle to delete the account. Then there is the case of a gay couple from New Zealand who ran a restaurant together. The locals boycott the restaurant for a year, but one queer woman turned the whole thing around. And now the restaurant is deemed the best in the locale.
The LGBT+ community's economic situation is unfortunately affected by their sexual leaning and gender identity. And it is ridiculous since it has almost nothing to do with an individual's skills or intellect. But homophobia knows no boundaries. And the LGBT+ community has taken it upon themselves to make these conditions better. For themselves and for the community.
Battling with franchises like Chick-fil-A or Starbucks to demand equal footing in the workforce and representation has become an everyday task. Thanks to founders like Moore and Pazmino, we know that there are ways to redo history. A palimpsest the LGBT+ community needs.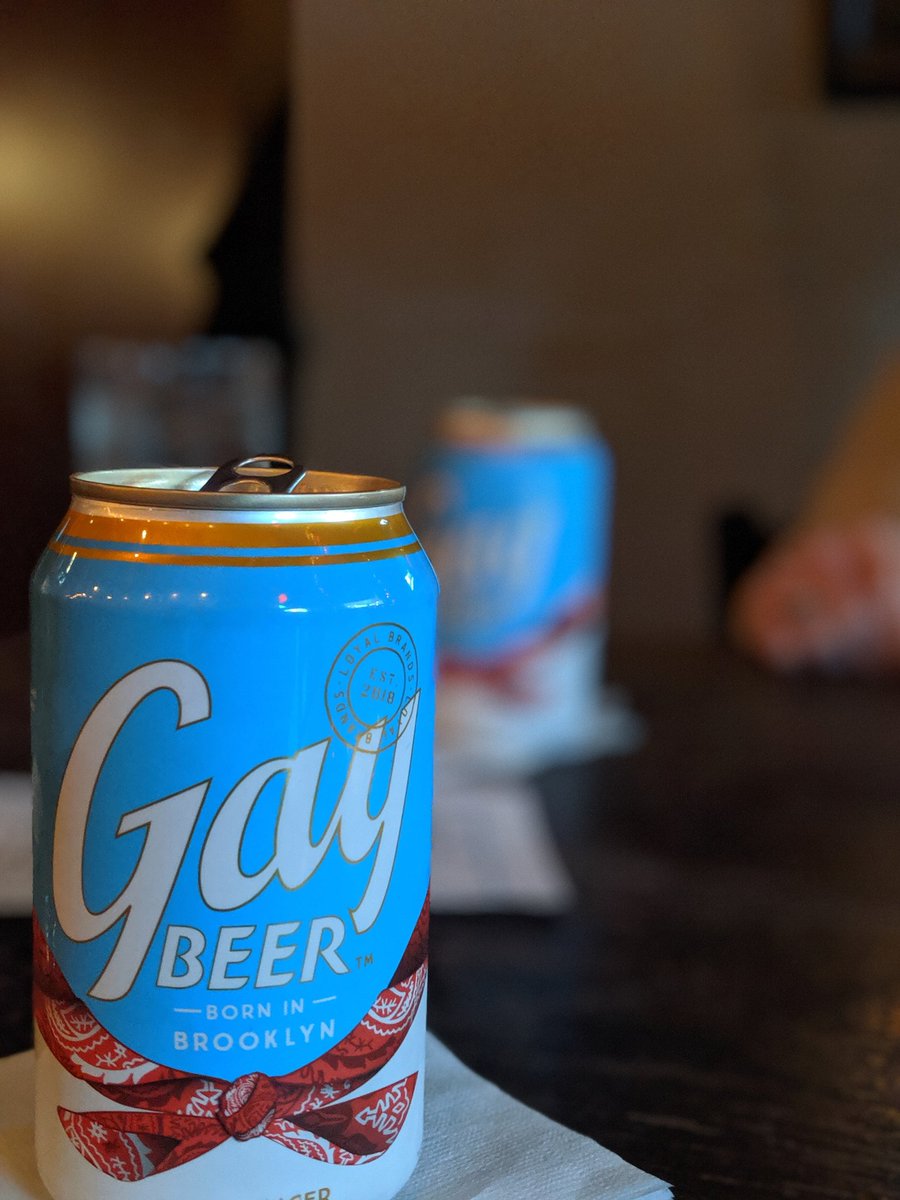 Gay Beer Turns You Gay
Moore and Pazmino were asked one question more frequently than the rest, jokingly of course. Does drinking Gay Beer make a person gay?
Moore agrees, "That's one of the first questions we get," And he has a sassy line to respond with too. "Is this going to make me gay? If you're lucky, yes."
And Pazmino takes it up a notch, "It doesn't make you gay, it makes you a better person."
Gay Beer is not only a voice from the community, but it also takes pride in giving back to the community. The founder duo knew to play their part to help uplift those LGBT+ individuals who are on the receiving end of the discrimination. The company donates to various LGBT+ organisations every three months. And during their last one, they held a fundraiser. The money collected during the fundraiser went to Marsha's House, an LGBT+ youth shelter. Obviously, the company markets to gay clientele. Although the brand is meant to be inclusive.
Target Group
Revisiting the gap in the market, no beer company outwardly states that they support and are for the straight people. But the advertisements, and representations of gay men rarely show them chugging down a beer. And the gays are often shown sipping a cosmo or getting drunk on a martini. As Pazmino points out,
"The reality is that there is a consumer that has been ignored. It's a sector that's been told we don't drink beer. There's power in speaking to that consumer and creating loyalty."
After successfully surviving the first year in the market, they now hope to expand with two new flavours by 2020. And the two flavours they have in mind are IPA and a blonde ale.
But guys, it's a beer. Do you really care if it says gay or not? And Pazmino is right.
"We're a fun community. Come have a beer with us."
Read Next: GAY PENGUINS STEALS AN EGG TO MAKE A FAMILY
<a href="http://www.FAT64.NET/" id="R0″>FAT64.NET</a>
https://www.queerty.com/meet-two-hot-daddies-literally-making-beer-gay-20191203