A Gay White Angel At The Red Carpet. Billy Porter Steals The Show
The Golden Globes is one of the biggest film and television events. Many artists attend this event. And this gives them a reason to shine on the red carpet. This year Billy Porter caught a lot of attention with this rich red carpet look. And by rich we mean, million dollars rich.
The theme Billy envisioned was a white party at the pearly gates. And Billy looked like a white angel dressed in a white tuxedo with a feathered train with pearls worth millions. Billy Porter went all out with his look at the award shows.
A gay white angel descends the red carpet.
Sam Ratelle styled Billy Porter for the event. And Billy brought promised drama to the red carpet. Sam Ratelle styled Billy in a bedazzled white tuxedo. The tuxedo had a white feather six-foot train that was designed by Alex Vinash. Moreover, the train attached to it which was embellished in 4000 Swarovski crystals. The Pose actor accessorized this outfit with a $2 million 40 carat diamond necklace by Tiffany & Co. He really looked like a white angel.
"This is not a sitting outfit – this is a standing outfit," he told reporters. When they were deciding what to wear, they thought of going all white. Since it was the first appearance of the decade. He then added that the color symbolized peace, hope and new beginnings. Well, we would not expect anything lesser from the actor. This look would stay in the minds of people for a very long time.
The actor and the stylist shared the look with The Hollywood Reporter way ahead of time. They mention exclusively that the outfit took over three months and 465 hours to make. Sam Ratelle adds that everyone expects Billy to be in a dress. So she decided to make men's wear absolutely fabulous and just as fantastic as womenswear.
The actor was seen in heeled satin boots custom made by Sandra Choi for Jimmy Choo. Also, he added to this a mirrored box bag with a crystal covers chain handle by Emm Kuo.
Rich in green and white.
Billy Porter did not think once before wanting to spend all that money for a night out. However, his red carpet attire looks as rich as ever. Adding to the necklace, Billy wore other accessories by Tiffany & Co. This included several diamond rings, bracelets and a dragonfly broach that costs $46,500. Ratelle points out that the dragonfly symbolizes change, transformation, adaptability, and self-realization. "It's very special to us because of its meaning," said Ratelle.
The diamond bangle bracelet costs $55,000. While a pink diamond ring chapped like a disco ball is worth $11,000. Everything that the actor carried seems to be symbolizing something.
His look has a new take on things. For example, the necklace is worn inside the shirt as the form of the neckpiece. That is a new take. The approach was to be more masculine but it is also very rock'n'roll.
Billy adds that it is a very regal look. He says that there is no monarchy in the United States. And in an award show that is so opulent and high profile, you have to show off in some way.
Billy Porters' golden globe look 2019 changed lives.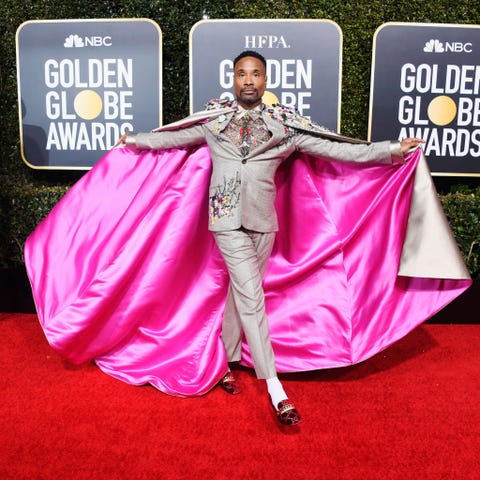 This is not the first time Billy has surprised us with his white angel outfit. He caught the same kind of attention at the 76th annual Golden Globe Awards.
Last year the actor lit up the red carpet with a grey embroidered suit and a matching cape with a hot pink lining. He worked the look in front of the cameras by twirling his cape in every possible angle. His shining grey cape had hundreds of embroidered flowers. He carried the look with ease and confidence.
This one was designed by Randi Rahm who specializes in bridal and evening wear. In addition to the flowered jacket and cape, the outfit also included an embellished sheer tulle shirt with a metallic silk collar. This entire look took over six months to make.
"The design was made from Billy's specific body measurements and sculpted multiple times in our atelier to ensure the perfect fit and drape of all pieces before any couture fabrics are touched," Rahm told the outlet.
Stylists like to work with Billy as he really knows how to carry of dramatic looks. Rahm immediately knew that this look would be a very important statement to Billy in many ways. And it did. The look needed to speak about his personality and the importance of his role in the show Pose. It also sends a message to the world regarding fashion, tolerance, and acceptance.
Billy Porter's red carpet looks are always something to look out for.
Next read: Deepen Sharma Un-puzzles Fashion For The Binary and The Non-Binary  
https://www.pinknews.co.uk/2020/01/06/billy-porter-golden-globes-2019-outfit-suit-tuxedo-look/

https://www.harpersbazaar.com/celebrity/red-carpet-dresses/a25774606/billy-porter-suit-cape-golden-globes-2019/

https://www.hollywoodreporter.com/news/billy-porter-wows-feathered-tuxedo-4000-crystals-2m-diamonds-1266451