Tips To Navigate Through The Holiday Season: Unaccepting Family
The holiday season always means meeting up with the family. This also means spending a good time getting berated about your personal life, and especially your love life. But as an LGBT+ individual, you know not everyone is safely out to their family.
Sometimes they are in denial, sometimes in disbelief, and sometimes they are disappointed. If you are one of those who have not come out to the family yet, here's how you can manage your time with them.
Plan Ahead
Being around family while hiding yourself can prove to be difficult. Especially if you are usually out and proud otherwise. So take time and look at the language you use, your behaviour, and your choices in clothes. Yes, this means you will have to hide a few sides of yourself and lock up your things too. But it will be far more convenient for you to manipulate how much of you, you want your family to see. This could include any pride related items, binders, and similar clothing, and even your hormone medicines
If that is how your family remembers you, you can navigate through the confines of your bubble. This will automatically help you set boundaries, know how much to expect and how to much to respond. It will reduce stress and make you feel at ease.
It is harder if your family knows of your gender identity or sexual orientation and cannot make terms with it. If that is the case, then spend time donating. You can donate your time and energy to local charities, and give to people. It will not only keep you away from your family but also help you give back to society.
Speak To Someone
Whether it is within the family, a friend, or a therapist, find someone to lean on. They can help you brace yourself for what is it to come. You might feel like you are forced to walk on eggshells around your family and that will only lead to more self-consciousness.
The holiday season is about celebrating togetherness and bond with your family. And if you are on good terms with your family and want to genuinely spend a good time, focus on the pluses of the situation. A friend or a therapist can help you come up with a perspective that will make it easier to be around family.
Coming Out to Family
But if you do want to come out to your family, do it strategically. It is after all the holidays, and everyone wants to spend time around their loved ones being comfortably present around each other. And coming out is a big part of it. Everyone wants to be accepted by their families. And LGBT+ individuals need support and love to thrive better in the discriminatory, ostracising society.
You can estimate the mood of your family members and start with one person at a time. Usually, people become more accepting around the season and are willing to strengthen relationships. The novelty of the season can be a boon to you. So, measure the tension and make your way to coming out of the closet.
Cut Short The Stay
If you feel like the situation is getting more intense than you would like to handle, cut your stay short. Plan an outing with your friends instead. Or find LGBT+ events in your neighbourhood and attend those. Do not burden yourself with familial expectations and do not do things that could negatively impact your mental health. Surround yourself with things that make you feel happy and grateful. And if this means seeing a little less of your family, or being more around your pet pup, go ahead and do it.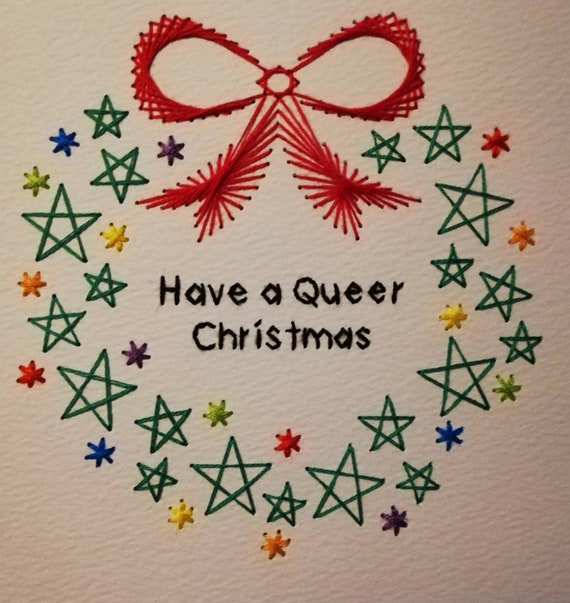 Take Time Out For Yourself
Whether it's heading out to a coffee shop or Netflix and chilling, make sure to get yourself some you time. Having to isolate a part of you for long hours can get very tiring. So make sure to include pockets of time to do whatever makes you feel good. Meet your friends, go for a long walk or chill with a cup of Hot Chocolate by a Christmas Tree of your design. Or just get drunk in your birthday suit and have a very merry you-day!
Go Shopping!
Every store you love will have a sale happening. Get yourself some presents and unwind with retail therapy. Scented candles, warm scarves, pretty make-up, or maybe just bird-watch. You can check out what the world has to offer and even make a date of it! Restaurants also usually have Christmas-centric special foods and drinks for you to try out. And so do supermarkets. So fill your shelves with food that you love! What better way to celebrate joy than good food?
The holiday season can be seem stressful but with the right tips we hope it's easier for you to tackle! Hapy Holidays folks!
Read Next: NIKITA DRAGUN, FOUNDER OF DRAGUN BEAUTY SCHOOLED VICTORIA'S SECRET