In Conversation With The Director Of India's First Silent LGBT Film
From Reel to Real
By Sarthak Chand
Faraz is a storyteller at heart. From a very early age, long before the idea of filmmaking was a career choice to be considered, Faraz used to stage shows for his close ones, with the help of dolls and puppets that surrounded him. These dolls are now the leading actors of Bollywood. The stories are deeper than the doll-plays and layered with the complexities of human emotions. The world is a stage set for Faraz's storytelling to unravel, waiting for his direction. As he makes his mark around the world with the release of his short-film Sisak, India's first silent LGBTQ film, he gets together two parts of his life, his sexuality along with his talents, portrayed through his self-reflective film. As the film travels around the world, Faraz sits down with his cup of coffee to narrate the life of its narrator.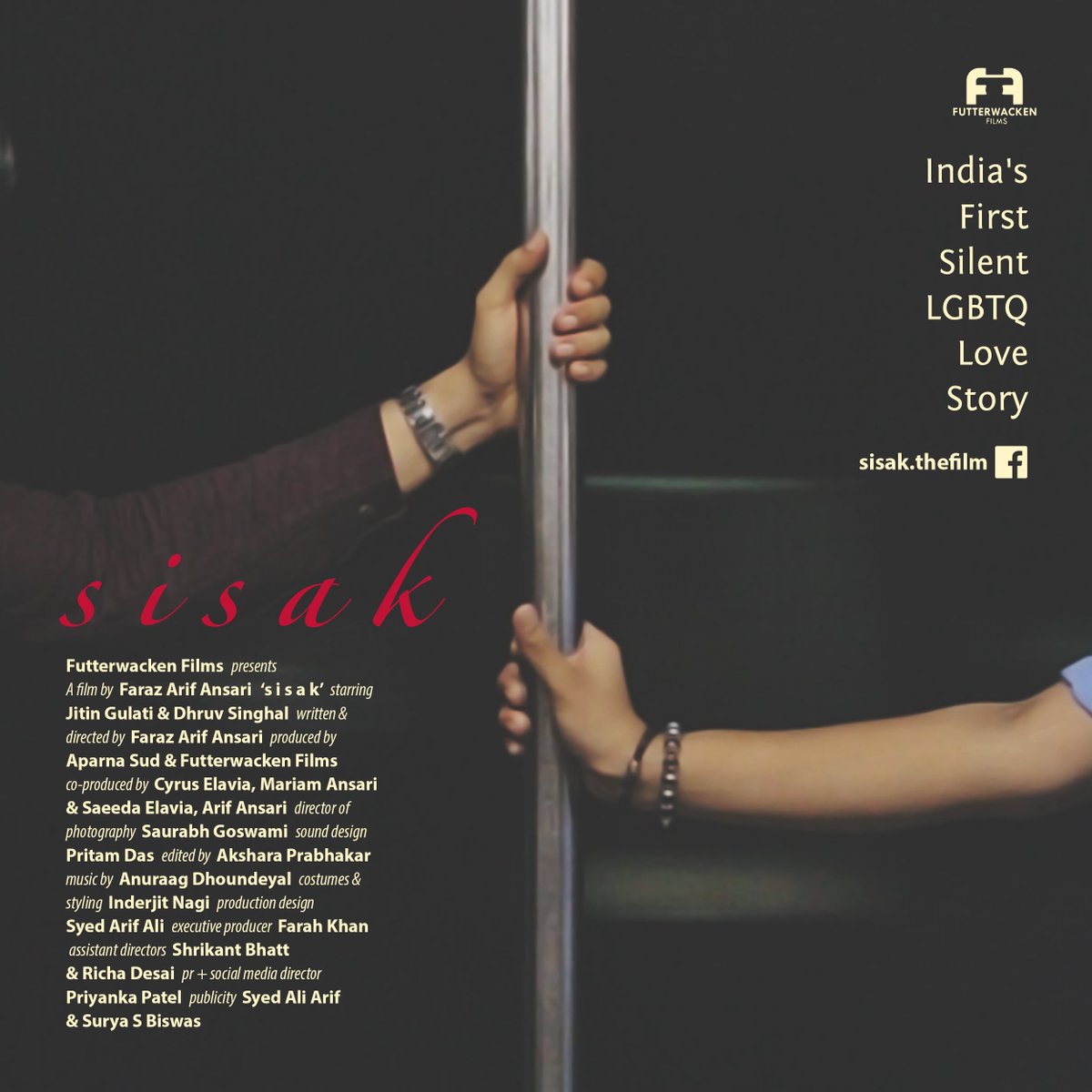 Faraz Ansari, recently turned 30, is a gay filmmaker based in Mumbai. After completing his education in the States, he came back to India with the dream of writing and directing his own stories on the large canvas that Bollywood provided. During his time in America, he used to lend a helping hand to nearby school to stage and direct their plays and had managed to conduct more than 170 shows across the world. It was this invaluable experience working with children that gave him an opportunity to be a part of the team that created brilliant children- based films such as Taare Zameen Par and Stanley ka Dabba. After working on these critically acclaimed films, he shot two short films named Siberia and Sisak, both of which did the rounds of the film festivals around the world.
From an early age, the headstrong yet introverted Faraz was well aware of his sexuality, much before he could find the accurate terminology for it. Vaguely aware of his attraction towards boys, his confident self did not allow him to guilt/doubt himself about his sexuality. It was in the US that he openly embraced his sexuality and lived a life only distantly aware to his friends and family back home. It was the relationships he forged in the States that not only made him embrace his homosexuality but also opened his eyes to the darker side of prejudice and discrimination that stems from homophobia.
The story of personal struggle with the questions about sexuality and acceptance were eliminated from his life at a young age. Upon his return from the States, he casually slipped in the confession about his sexuality to his mother. Just like the initial reaction from his father a few weeks later, his mother asked him the only question that concerned her as a parent, "Are you Happy?"
That was the only conversation Faraz needed to have. Ever.
This subtle way of acceptance was a smooth transition to the acceptance he had already gained from within. Faraz says he fought bigger battles getting his parents to support his choice of profession as compared to his sexuality. Hailing from a business family, Faraz's venture into cinema was looked at with a lot of doubts and uncertainty and this displeasure was made clear by his parents. His work on films such as Taare Zameen par and Stanley ka Dabba not only achieved critical acclaim due to the its powerful storytelling but also managed to instill faith in Faraz's parents, regarding his choice of profession.
He admits,
"My father is the happiest man, each time an article is published about my film. He goes around announcing it to most of his friends. A day or two later, he'd call me just to remind me (again) of how uncertain my line of work is."
Although he admits writing many more scripts before shooting his latest 'Sisak', it was the journey of rejection from the fraternity that gave birth to this film.
"As a filmmaker, we play on the level of the subconscious and must utilize this opportunity to the best of our ability, for creating a positive change. That is what honest cinema does," Faraz lets out in an exasperated breath.
Having written a full-length feature film based on the lives of a homosexual couple living in our society, his story was rejected by a lot of production houses. In the struggle for his script, Faraz lost some friends and miffed others. Faraz summarized the situation saying,
"It is okay to be a gay filmmaker as long as you don't make films about homosexuality."
It was during this period that his observations during his travel eventually turned into the script of his latest film, 'Sisak'. As Sisak began with the days of the struggle, during the post-production phase of the film, it was crowd-funded on Wishberry and managed to raise more than the intended amount in less than a months time. With the movie receiving accolades around the world, overwhelming love and support has been showered on to the project since its creation.
He slyly admits,
"Most people who refused to touch my earlier script have come around full circle to congratulate me, looking at the success and the support that Sisak garnered."
The subtlety with which the movie deals with the idea of intimacy is well reflected as an extension to Faraz's own sensibilities.
When encountered with questions about homosexuality, he cringes on the mention of the term. For Faraz, the 'sexual' connotation of the word 'homosexual' undermines the gravity of the oppression faced by the community. To be represented as a community, fighting for its recognition, he believes that the fundamental 'Right to Love' is often misinterpreted to mean 'Right to Fuck'.
Talking about Section 377, Faraz says,
"Isn't that exactly what we are fighting for? Beyond the political and legal angle to the opposition of Section 377, I oppose it as it goes against a basic human instinct. The natural desire to find a mate and to procreate is one that isn't just shared by man but also applied across the entire spectrum of life on the planet. Any human law that denies you the 'right to love' has no place in our society."
Talking of his experiences, both in the US and in India, he observes that awareness and acceptance do not always go hand in hand. During his stay in America, his relationship with a senior from his school came under heavy scrutiny and led to discrimination. Faraz says he was a 'double-minority' due to his Muslim name as well as his homosexuality. His boyfriend was also the victim of psychological abuse due to his choice of his partner. It was during these trying times that sensitized Faraz to the affect that bullying had on its victims as well as its emotional toll it took on the victim's loved ones. After persevering through the discrimination and brushing off the flak that he received from much of his peers in school, it was at this time that Faraz developed his relationship with storytelling by directing school plays.
However back in India, he admits to know a large number of gay couples who have been in relationships for years, living together, in full view of the world. Although the legal aspect denies them the right, they continue this relationship with the complete awareness of the heterosexual general public that surrounds them everyday. Beyond their families, even the part of society that they interact with on a daily basis is aware of their living situation, without the need for an explanation. Despite larger parts of the society being aware of the plight of the LGBTQ community in America, Faraz says that acceptance is yet to come.
He states the stark difference in the two environments, as
"As aware the larger audiences might have been in America, I could sense hostility and homophobia a lot more within the informed part of the society and India, on the other hand, was much more accepting without needing to know. We have always been a country that believed in inclusion and in assimilating our diversities"
As we come to the end of the interview, I enquired about the support system that he had during his days of struggle. Instantaneously he starts to list names such as Akira Kurosawa, Krzysztof Kieslowski, François Truffaut and other filmmakers, almost with a friend-like familiarity. The poems of Emily Dickinson to the frames of the intense film 'Eternal Sunshine of the Spotless Mind' were all parts of the influences that shaped the ideology of Faraz. It was through cinema and their truthful storytelling that was the largest support system that Faraz could hope for. In an attempt to create the same, he ends the talk with his unrealized dream,
"I want to make an honest film about the regular lives of a gay couple. Just show them loving, living and dealing with life, every day, just like everyone else. If I could do that, it would be my greatest contribution to the fight against homophobia."