Inclusivity at Workplace to be theme of Pune Pride Parade this year
Every year, the Pune Pride March, walks with the purpose of highlighting an issue that affects the Lesbian, Gay, Bisexual, Transgender and Intersex (LGBTI) community. This year, the theme chosen is about inclusivity at the workplace.
"We see more and more Indians going abroad and foreigners coming to India to work. There are issues coming up with regard to inclusivity at workplace and we want to raise them," says Bindumadhav Khire, President of the Samapathik Trust, an organisation that works for the advocacy of LGBTI rights. He has been organising the march since the past five years.
In 2015, the march highlighted the issues faced by the transgender community and the year before the community marched against the Supreme Court's verdict on Section 377 that criminalises homosexuality. In the sixth year, it is focussed on bringing out the issue of inclusivity in the corporate, health and educational sector.
"More companies and organisations should be inclusive. There needs to be an internal committee that deals with harassment complaints. Many times people from the LGBTI community are made fun of through lewd comments and jokes or sometimes there may be a case of unwanted sexual advances. These problems need to be addressed," adds Khire.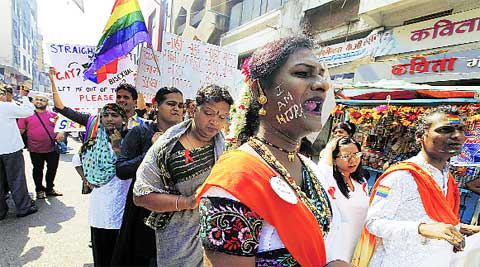 With regard to procuring the permissions required, Khire mentions that there was no difficulty in obtaining them from the police and they were very supportive. However, he has listed certain guidelines that all the participants have to strictly follow. For instance, people participating have been requested to dress and behave decently and no obscene posters or slogans about political parties or leaders will be allowed.
"While I do support the freedom of expression, I feel it is important to lay down certain rules. The aim is to show similarities the LGBTI community has and not differences. We do not want to alienate ourselves," states Khire.
The march is set to take place tomorrow (Sunday, Aug 7) at 10:30 am and will start from the Sambhaji Park. For the first two years, the march took place on Laxmi Road, but since the past three years, it has been taking place at the Sambhaji Park, heading to Fergusson College and then back.
"We chose this route because in this area there are many students. It will give us a chance to engage with the youth," Khire explains.
This year, the Grand Marshall of the march will be Souvik Ghosh, an IT professional, who has been working for LGBTI rights. He will be seen carrying the flag and leading the march.