John Jolie-Pitt has Turned into Such an LGBT+ Fashion Icon!
John Jolie-Pitt is the 13-year-old who is the oldest biological child of Angelina Jolie and Brad Pitt. John is one of the six siblings raised by the couple who are now divorced. He was assigned the female sex at birth but now identifies as a male. And despite being just 13, this LGBT+ fashion icon has marked his style in the community.
Fashion has always been a strong field of experimentation for the LGBT+ community. Transitioning, gender-fluid, non-binary, and playful LGBT+ fashion has allowed all of us to look the way we want to without being imposed into gender binding boxes. And John has used it to his advantage like a boss.
LGBT+ Fashion: The Switch To John
John developed a powerful voice and chose to use it to speak for the community. His fashion reflects what he believes in. In an interview, his mother, Angelina Jolie addressed John's masculine leaning fashion choices even when John was younger. And this was back in 2010.
"She (Shiloh) likes to dress like a boy. She wants to be a boy. So we had to cut her hair. She likes to wear boys' everything. She thinks she's one of the brothers."
Hoodies are comfort clothing for many from the LGBT+ community. Whether it is hoodie under a shirt or to bind chest to feel more masculine, or just stealing a partner's, we love our hoodies. And Jolie-Pitt is just like us all. The only difference is that he does it far more fashionably. Another big chunk of his wardrobe is streetwear.
Growing in the public's eye, John has managed to tame his sense of fashion and developed what we all can agree is a down-to-earth street style. A basic and minimal look is what we often see him in. Trainers and Chucks are a big part of the footwear. And long shorts, basic tees, and casual sweatshirts are all there is to the outfit.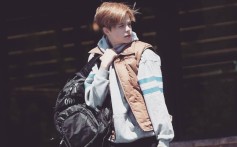 Like
SCMP
points out, John is open about his identity. He likes earthy tones and keeps it mellow. Apart from earth-toned hoodies, he also wears a lot of vests.
The Red Carpet Looks
If you're wondering if he attends the red carpet in the same fashion, well, it is a yes and a no. His style remains the same but instead of basic pieces, he picks dark coloured suits! Yup, he knows what he likes and can amp it up whenever he feels like it.
He appeared with her mom to the National Board of Review Annual Awards Gala in 2018. And was dressed in a classic two-piece. Although he met with a snowboarding mishap and had a black sling because of it, he managed to nail her look at the event.
He has given us several stunning looks over the years. Last October, he attended the premiere of his mother's new movie, Maleficent: Mistress of Evil with her sister Zahara. He wore a subtly glittering striped jacket that matched Jolie's Versace gown. And the Rome premiere saw the duo have a cute mother-son fashion moment that struck us with awe.
LGBT+ Celebrity Fashion
From Zendaya wearing a suit to a red carpet event, to Harry Styles wearing a black sheer blouse with earrings, or Billy Porter in his numerous gender-bending outfits, celebrities have begun to embrace the gender non-conforming fashion styles. It's bold, it's beautiful, and absolutely amazing to see celebrities go the other way and not wear what people have been wearing all this while. LGBT+ fashion has so many elements to it. And this provides people with the option to experiment as they please. Femme, butch, masculine, feminine, gay, or straight, clothes can help modulate the degree of each of these ideas to fit what you feel in totality. And that is pretty darn cool.
Returning to John, it is iconic to see the son of a big-time celebrity do what he believes in and be so transparent about himself. We have seen Jada Smith do something along the same lines, but John keeps things on the DL and has a down-to-earth personality to match the down-to-earth fashion sense.
People often assume that being lesbian or being gay is indicative of certain type of fashion. But with the rising awareness we are glad that even celebrities are accepting themselves and celebrating themselves no matter how they identify. Being in a position of power like that, we can only hope to see John give us more looks that heed to the LGBT+ fashion. And only time will tell what changes his fashion will see if any. Would you replicate John's looks? Tell us what you think!
https://www.scmp.com/magazines/style/celebrity/article/3046002/why-shiloh-jolie-pitt-lgbtq-fashion-icon-streetwear#referrer=https%3A%2F%2Fwww.google.com&amp_tf=From%20%251%24s