A First of its kind in LGBT+ Marriages! This Time It's The Prison
LGBT+ marriages are still illegal in a lot of places. Marriages are usually made in heaven, and weddings maybe in Bora Bora, Paris, or even Goa. And maybe temples, churches and so on. But getting married in prison is something. And these two love birds decided to do just that!
Welcome to the wedding ceremony of Kevork Tontian and Wemson Gabral da Costa! A cute couple of a correctional facility. They made LGBTQ+ history in the European Union!
It's A Love Story
According to the Associated Press reports, Tontian and Gabral da Costa are second in line to get married in a correctional facility. They are the second same-sex couple to be wedded within an E.U. member country, specifically Cyprus.
Tontian and Da Costa are both identified as men by the Associated Press. But that is not the case. Da Costa is presently undergoing hormone therapy at the Cyprus hospital. He is also considering a gender-confirmation procedure. And he may identify as transgender.
Tontian, on the other hand, is a 34-year-old who was released two years ago from the prison complex. The Cypriot was released from prison's capital, Nicosia. But his love for Da Costa made him do something crazy.
Return to the Prison
The 30-year-old Brazilian charmed Tontian so much that Tontian committed another crime and got right back behind bars.
Here's what Tontian said at the press conference at the facility that came right after the ceremony. "We dare, we dare, we asked. There is no shame. Love has no shame".
How far would you go for someone you love? Really?
The Drug Called Love
How did Tontian and Da Costa actually meet? What is their story? How did they fall in love? All of these questions have answers, and we are not sure what to make of it.
Tontian is a former heroin addict. And he initially committed a drug-related crime. But he has been clean for five years. Da Costa, on the other hand, was caught at an airport. He was arrested for being a drug mule. He committed the crime to pay for his sick grandmother's medical fees.
The two met at a bingo game! Tontian and Da Costa got together and their relationship budded into something more during the Cyprus Pride Parade. They marched together, under supervision of course. They then became cellmates. The guards who were sympathetic towards the two transferred the fellow inmates who harassed the couple for the internship.
Marriages in Heaven: LGBT+ Prison Wedding
The ceremony was pretty traditional. Well, at least according to the prison rules. Garbra da Costa and Tontian got engaged in a civil union last week. The staff, a few friends, and a few close inmates were also a part of the wedding. The director of the Cyprus Prisons helped the two with the ceremony as well.
Sadly, there is no recognition of marriage equality in the Mediterranean nation. And yet, the civil unions have been legal for the past five years.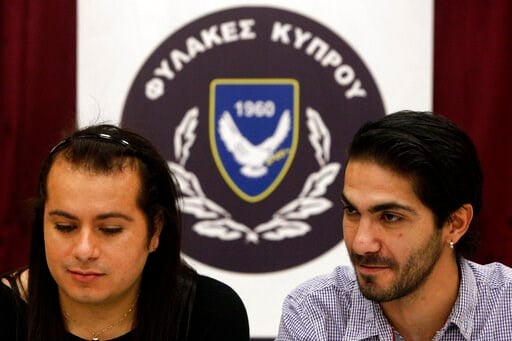 Acceptance
The LGBT+ community already has it rough. And LGBT+ marriages are considered invalid legally, taking away from marital rights that affect housing, job benefits, and even adoption rights. But one of the biggest basic issues that we still see today is acceptance within the family. Neither Tontian nor da Costa have been accepted by their families. And it has to do with their LGBT+ identity.
Tontian said, "Parents won't be with us our whole lives, at some point the parents will leave. They should do it, they should dare. If they lose their family, so be it. At some point the family will regret it."
But the two still hope that their coming together and their love will inspire other inmates to listen to their hearts.
The couple is said to be released at the same time in June. After which they say they intend to permanently stay in Cyprus.
The LGBT+ Weddings
We have seen LGBT+ marriages. Gay weddings, lesbian weddings, and transgender weddings everywhere. We have also seen trans and non-binary couples birth a child, a single gay man adopt and raising a girl with down syndrome. And celebrities who decide to call it quits on gender-based fashion and wear what they felt like to the red carpet. And the children of these celebrities who are setting out to be LGBT+ fashion icons at such a young age.
LGBT+ families come in all forms and shapes. And not every time does it begin with a marriage between two LGBT+ individuals. But in this case, it might have. Since both of them are rejected by their families, they are lucky enough to have found each other. Maybe in the darkest of times. But to see their love bloom, and the guards come to their support is pretty amazing.
Read Next: IMPOSSIBLE WHOPPER GIVES YOU MAN BOOBS?
https://www.advocate.com/world/2020/1/17/lgbtq-inmates-wed-cyprus-prison-making-history-european-union