Mumbai Pride 2020: Sedition Cases Against LGBTQ+ People
Th51 LGBTQ+ people have been booked for sedition for using pro-Sharjeel Imam slogans during the recent Pride March held in Mumbai on 1st February 2020. Police had allowed the event on certain conditions after denying permission once in the fear of anti-CAA and anti-NRC slogans.
Pride March history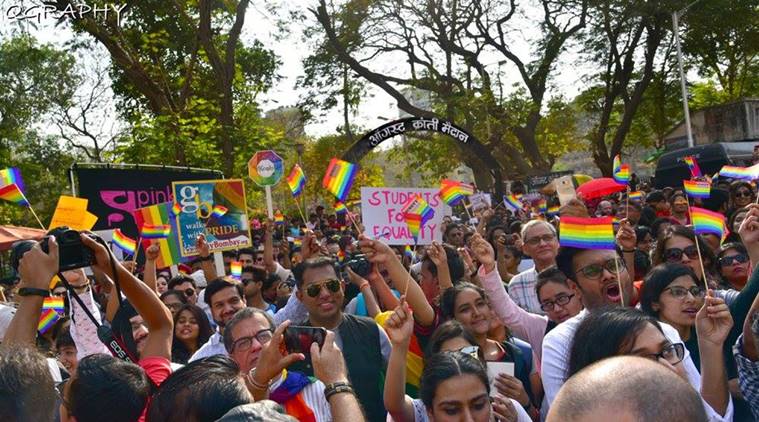 In 1999, LGBTQ+ people in India had no public spaces where they could come out. The idea of a Pride Parade was alien to them. All they could do was have private hush conversations over coffee or a McDonald's burger. This had to change. They would not live in the shadows forever.
Once a year a large party would gather in the northern coastal haven of Marve. There was a private bungalow where hundreds of gays and queers would gather to celebrate pride.
We see this tradition being followed even today, thanks to the people of Mumbai Queer Azaadi. Last weekend there was a similar gathering of queer people in the city. This weekend the pride march took people back to cherish those moments of freedom and the confines of the Marve bungalow.
But 1999 was a different time, where people would be terrified of showing their true identity while today LGBTQ+ Indians are more confident and don't shy away from sharing their political beliefs.
The Pride March Police Invasion
This weekend's pride march took a very drastic turn of events. There was a massive raid of over 100 men and women of the Mumbai Police. They stopped the pride goers, abused them and lined them up in shame. They yelled at the tarns women and slapped the gay boys.
The LGBTQ+ individuals were lined up for hours where they were being interrogated about their personal details such as family names, identity cards and phone numbers before being released.
Moreover, the Mumbai police filed a sedition case against 51 people. One of which included Urvashi Chudawala. People were chanting slogans in support of Jawaharlal Nehru University student Sharjeel Imam at a queer pride parade on Saturday. Bharatiya Janata Party leader, Kirit Somaiya had filed a case against those who chanted the slogans.
More than 51 LGBTQ+ individuals were charged with the following cases. One included Section 124A which is for sedition. Another was Section 153B for imputations, assertions prejudicial to national integration. The rest include public mischief and common intentions of the Indian Penal Code, Deputy Commissioner of Police Pranay Ashok told PTI.
This pride march was scheduled to take place at August Kranti Maidan. But the police denied permission. They claimed that the placard and slogans criticized the Citizenship Amendment Act. The organizers of the event went ahead with the event at Azad Maidan after getting permission on certain conditions.
The whole pride march was a series of abuses against the LGBTQ+ community. And we hope that this changes in the future. The LGBTQ community only ask for freedom to express and the right to have a gathering in public places like any other.
They deserve equal rights
Speech impaired queers and hearing impaired queers signed their pride. Huge roars of applause followed.  Lesbians, Gay, Bisexuals inspire young activists, queer Dalits, and many queer vegans. Transgenders have always struggled with freedom and connect it with the wrongs of our caste-based society. All they had to say is, "we are all sentient beings that deserve equal rights."
This was exactly the inclusion they have been fighting for. And this inclusion must extend to politics and our political beliefs. The whole idea is not to agree or disagree with the activist slogans. The LGBTQ community only wants to know if they have a right. Do they have a constitutionally protected right? They want to know if their opinions matter.
The answer is yes. As queer people in a safe queer space, we have a historic moral duty to protect them. Just like Section 377 of the IPC that used to criminalise homosexuality, Sedition laws in India are just as unconstitutional and antiquated if not more.
The struggle has always been to abolish colonial laws that violate the constitution. That is all the LGBTQ community is asking for. It is the duty of the government to protect each and every individual. Whether they are gay or straight.
Sedition laws are just as unconstitutional and antiquated as Section 377 of the Indian Penal Code that criminalised homosexuality. Our struggle has always been to abolish draconian colonial laws that violate our Constitution, not to enforce them. Let us never forget that.
Next read: A Pride Festival dedicated to LGBT muslims. "I think we've earned a party"
https://scroll.in/article/952100/why-lgbt-people-must-protest-sedition-case-against-50-people-for-slogans-at-mumbai-queer-pride-event