Plan Same-Sex Weddings With These Affordable Tips
Weddings are usually hard to plan. They involve a lot of effort, commitment, running around and believe it or not, it gets even harder to plan a same-sex wedding.
As the wedding season is upon us and many same-sex couples want to make their wedding unique and special, FSOG decided to share a quick guide for you to plan your wedding without blowing up your budget!
Aimee Palifroni shares a cost-conscious tip to plan same-sex weddings
Aimee Palifroni is the owner and lead coordinator at Prisma Wedding and Events. On an episode of Queer Money®, her firm offers innovative wedding planning ideas. They also share cost-conscious tips for those who are looking to plan great same-sex weddings. Some of them make sense for weddings of every budget and sexual orientation.
Aimee has been planning same-sex weddings and commitment ceremonies even before marriage rights were given to US citizens, which was in June 2015. She has seen an evolution of these ceremonies. And she believes that same-sex couples are becoming more comfortable with the idea of throwing grand weddings. Initially, many thought the concept of a wedding was just an option for them. However, recently they have been embracing it with open arms.
Aimee says, "We're loving that more LGBTQ couples are reaching out and saying, 'Yes, we do want to have a wedding. We do want to have a celebration. And, what does that look like for us?'"
She says that weddings today have no rules anymore. And that goes for same-sex weddings as well.
"Once you have all the base pieces together—who, what, where, when—it's really up to the couple to add in their own personality."
Weddings are becoming more experience-based rather than traditional bases. Everyone wants their wedding to look "Insta-worthy. But they also cost as much."
Bridal Party? Waive it off
Aimee advises keeping your ceremony focused on the couple. "It is a quicker and easier way to cut some line items." She says that she sees this option being used more with same-sex couples than her straight clients.
When you decide to forgo your wedding party, it saves on a lot of expenses like bouquets, boutonnieres, and gifts. It also keeps the focus of the wedding on the couple, creating a more intimate experience for them.
Guests of honor, parents, grandparents can still have a reserved moment to walk down the aisle. Palifroni also clarifies that they can have prime seating.
Try reception-style with food stations
A reception-style wedding is more fun and contemporary with a pleasant ambiance. Unlike the usual family-style or full service weddings, a reception-style includes a few round tables with several cocktail tables for people to stand.
You can have food stations which are big wedding savers as per Aimee. It gives the wedding guests the opportunity to mix and mingle. Moreover, it lets the couple create any number of experiences that incorporate different cuisines. This is great for those who are marrying into families of mixed cultures.
This method can save on a lot of your money. It reduces the costs of decorating a large number of tables with flower arrangements and other decorations like costly tablecloths, napkins, glassware, and chairs.
For those parents and grandparents, however, you can prepare a small food service style. While they are the ones that usually expect a traditional experience.
Go digital with invitations and RSVP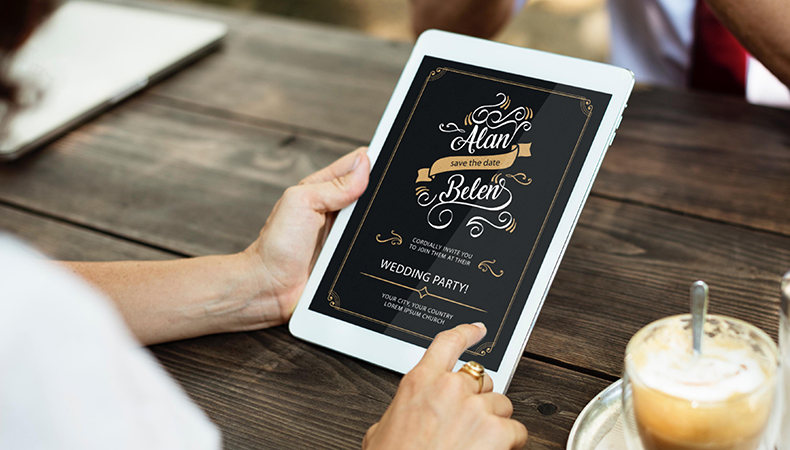 It has become more popular to incorporate digital tools for saving money and time. Aimee shares that there are many free and easy options for wedding invitations and RSVP.
Printed invitations cost about $2.50 and that is the cheapest of the lot! Let's not forget that this price does not include postage. Moreover, the amount of paper used for these invitations is something that couples don't usually opt for. They prefer more economical and eco-friendly solutions.
Private ceremony or elope
Aimee's LGBTQ+ clients usually elope or choose a private ceremony. It is more common among LGBTQ+ clients than straight ones. Usually, couples who choose this follow up with a party or a reception.
This method might upset some friends and family, but they are not the ones paying for the couple's special day. Moreover, no one wants a wedding with financial stress just to make family and friends happy.
Aimee warns about being guilted or compelled to follow traditional methods because of a parent or grandparent. Try having the best of both world and it might turn out cheaper for you.
Hire freelancer or students to do live music, photography, etc
This tip helps you save money and also help someone else. Everyone had one or two elements that are important to them. Why not hire professionals for those important elements and higher college students to help with the rest.
Aimee says that one of her clients did this and it saved that couple a lot of money while also helping a student build a portfolio. Students are looking for opportunities like these. This is a great idea to help an LGBTQ+ student launch their career.
Next read: China Is All Set To Welcome Same-Sex Marriages
https://www.forbes.com/sites/debtfreeguys/2019/05/31/7-affordable-tips-for-a-fabulous-same-sex-wedding/amp/