Tickets Go Live For London's First LGBTQ+ Muslim Pride Festival
Tickets are now on sale for London's first LGBTQ+ Muslim Pride festival. Imaan group is organizing the Pride march and the event takes place on April 11, 2020.
London's first LGBTQ+ Muslim Pride festival is bringing together artists and advocates for this event, and the organizers hope to spotlight the community that is under-represented in the Pride calendar.
The tickets for the LGBTQ+ Muslim Pride festival hit the EventBrite shelves on Wednesday. The tickets range from £5 for those on lower-incomes to £20. The full price tickets include lunch and dinner. Moreover, the ticket price covers all sessions, panels, and evening entertainment.
🚨Tickets are now LIVE for #ImaanFest the first Muslim Pride event on 11 April in London. Proud to announce @Glamrou @AsifaLahore @BlairImani are just some of the amazing guests in a programme of speakers, workshops, art, food, entertainment & more! https://t.co/4uAZ0MqblJ pic.twitter.com/c7ngN2GhnM

— Imaan LGBTQI (@ImaanLGBTQ) February 26, 2020
What is ImaanFest?
Imaan group was founded in London in November 1999. It was founded by lesbian, gay, bisexual and trans-Muslims. And this year is the charity's 20th year in operation.
ImaanFest features special queer Muslim guests including American black bisexual Muslim activist Blair Imani, queer British-Iraqi writer Amrou Al-Kadhi and trans activist and star of Channel 4's Muslim Drag Queens Asifa Lahore, to talk in panels and discussions.
"The media has tried to control the narrative about queer Islamic identities for too long, often thrusting us into a horrific culture war, as if Islam is the mortal enemy of queer identity." Says Al-Kadhi in a press release.
He says that ImaanFest, Muslim Pride is the perfect counter-narrative. It reveals the joys of queer Muslim identities. Moreover, it gives them a chance to make their own space.
Imani added: "LGBTQIA+ Muslims are as beautiful and naturally occurring as the rainbow that represents us."
Festival funding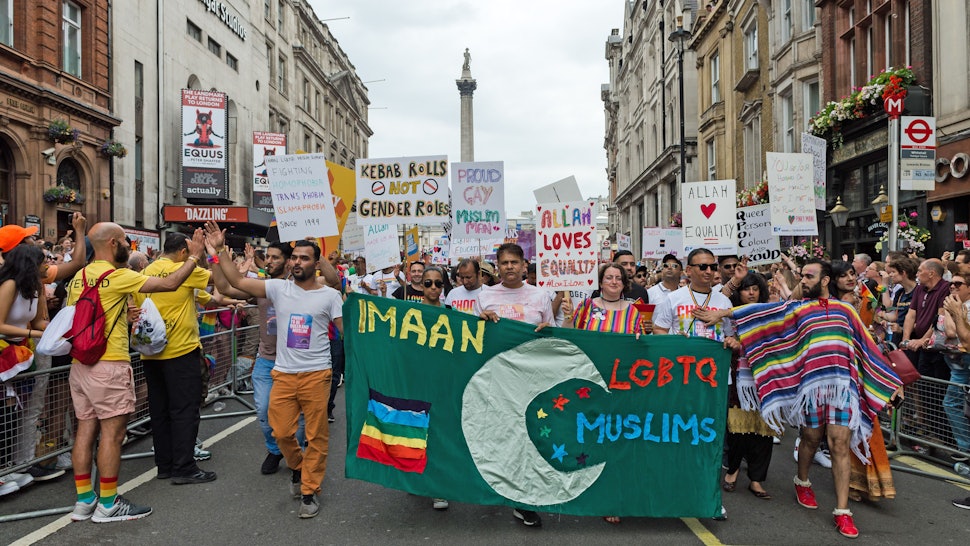 Campaigning and crowd-funding from charities became tiring for the ImaanFest Group. They backed off from that and now have the community chipping in for funds. In addition, they collected more than £10,000 to help fund the festival. These funds were garnered from 467 supporters in 42 days last year.
Taking to Twitter, the group excitedly penned: 'It's happening! We've set the date for the first EVER Muslim Pride event. Tickets go on sale in two weeks!'
The festival will bring LGBTQ+ Muslims as space to find camaraderie, love, and support. This way those LGBTQ+ Muslims won't feel isolated and without community.
The Festival intends to empower members as well as raise awareness of the mainstream queer Muslims. They face this both within and outside the LGBTQ+ community.
Previously, the charity was linked to the rise in hate crimes in the UK. They also protested the spark in Birmingham's Muslim community that was against LGBTQ+ inclusive education.
Positive and some negative tweets
Despite the announcement, the charity has already been hit with a few negative tweets and online trolls.
After getting a series of Islamophobic comments, the organizer decided they would not let all the hate and abuses stop them from holding the event. In doing so, they came up with a hashtag that said: 'Islamophobia won't stop us'.
In response to this, others took to social media to praise the event.
🧕🏾🌈🕌 SHARE SHARE SHARE! It's happening! We've set the date for the first EVER Muslim Pride event. Tickets go on sale in two weeks! #LGBTHM20 pic.twitter.com/3Qo5U9vOPF

— Imaan LGBTQI (@ImaanLGBTQ) February 11, 2020
Respect to you! In solidarity we stand!

— Rosie Motene- Pan African feminist! 🏳️‍🌈 (@RosieMotene) February 11, 2020
This is a great initiative!
It's time we counter Islams view on gay people, amongst other things that it's inherently against.

— Zara Kay (@zarakayk) February 12, 2020
Importance of LGBTQ+ Muslim Pride festival
There are a lot of reasons why the LGBTQ+ Muslim Pride festival is important.
One of the reasons is to remember and celebrate the LGBTQ+ community. They do so with raining color floats and confetti. The festival is a brief moment of meandering the streets and transforming major thoroughfares into spaces to watch, remember and celebrate the community.
Even so, many queer folks of faith, mainly Muslims, have said that they feel sidelined. They are usually removed from the secular and white celebrations that happen often.
Moreover, there are religious preachers hurling homophobic abuse to the Pride-goers. They spread fear amongst the people. They also believe that religion and LGBTQ+ community cannot intersect.
Islamic position on homosexuality
It is really difficult to define the Islamic position on homosexuality. There are over 1.6 million followers that are scattered across six different continents. Each one coming from different backgrounds that speak different languages. Hence, there is no one way of practicing Islam.
In some countries, laws are defined by Islamic traditions and teaching. Therefore in these countries, homosexuality can be punishable by prison time or even death.
But there are few countries where homosexuality is not a crime and celebrated instead.
Some LGBTQ+ Muslims feel their sexuality is wrong. Hence, there is a stigma tagged to these LGBTQ+ Muslims which is one where campaigners are keen to reject. They must reinvent what it means to be both queer and Muslim.
Next read: What happened last week? Pride Parades around Europe
https://www.pinknews.co.uk/2020/02/26/muslim-lgbt-pride-imaan-london-tickets-uk/

https://www.dailymail.co.uk/femail/article-8000667/UKs-Muslim-Pride-festival-held-London-year.html