Ian McKellen Explains Relationship With Patrick Stewart
Ian McKellen and Patrick Stewart have a relationship that is talked about for decades. And it never gets old. The two have been flagged as best friends since the production of the X-Men. Although they were not as close before. Their friendship or bromance, as they now call it, has blossomed over the years. We have a few excerpts for you from Ian's new biography called Ian McKellen: A Biography.
Let us start from the very beginning.
The two actors worked on the production of the X-Men series since the very beginning. Ian played the famous character named Magneto in the series. Whereas, Patrick brought life to the role of Professor Charles Xavier. The initial bud of this relationship started on the sets of X-Men 2 and has been growing ever since. The series went on. And the two actors appeared in all except a few. With the seventh series in production, the actors worked together. By this time the franchise had grossed over two billion dollars. Cathy Newman marked the release of X-Men Days Of The Future. That is when Ian and Patrick's friendship or 'bromance' had become legendary.
Stories of a relationship on The Graham Norton Show turn scandalous.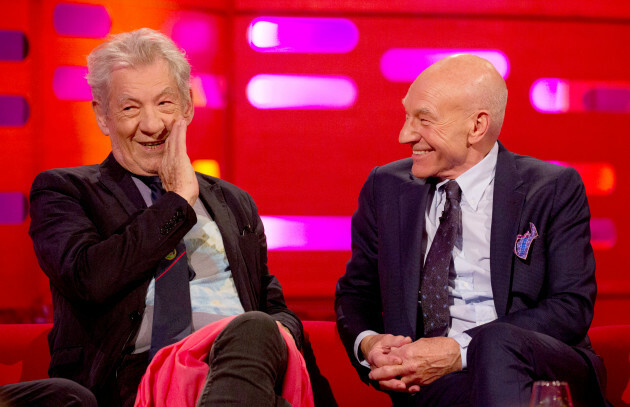 Ian McKellen comes across as a very humorous person. All his comments in the media and interviews are always fun to listen to.
On an episode of The Graham Norton Show in 2013, Ian made a comment that becomes a talking point in the headlines. Ian McKellen was soon to officiate Patricks Stewart's wedding. The audience when responded with an uproar and laughter when Ian stated: "I am going to marry Patrick." The statement obviously made a jokey headline the next day that said 'McKellen marries Stewart'. To add to this, the two mouth-to-mouth kissed at the premiere of Mr. Holmes in May 2014. It is probably the cutest friendship of all time.
In another episode of The Graham Norton Show the two knights appeared together with Huge Jackman who played Logan/Wolverine in the X-Men. Patrick Stewart revealed how moved he was when Ian called him his brother.
Ian told a tale of this one time he wore a Pounamu, a New Zealand charm prior to the Oscar Ceremony. Maggie Smith asked saw it around his neck and asked him what it was for. Ian told her in a cynical imitation that it would bring him luck at the Oscars. And when he did not win he met her again and said that it didn't do much in a Maggie Smith voice. There was laughter in the audience for this self-put-down statement.
The media has a way with Ina McKellen.
Ian McKellen has always been of good value in the media. His natural domination of chat shows and the media has continued into his eighteenth year. He visited a Russian Literary Festival where he plied his social activism in favor of gay tolerance in defiance of the anti-homosexual laws in Russia. Instead, he was arrested for smoking outside the Koltsovo international airport. Which was against the law. There was a fierce debate that followed locally as to whether he should be put to trial or be fined. As he was a well-known foreign celebrity on a visit.
in 2018 Ian commented on the sexual misconduct of celebrities. He stated that some people get wrongfully accused. He gave an example from the 1960s when a director he worked with shows him pictures of women who were looking for jobs. Some photographs had DDR written at the bottom of the picture. DDR stands for directors' rights respected. In other words, 'If you give me a job you can have sex with me.' Ian pointed out that it was madness. But it was something that happened often.
I get letters from preachers, school-teachers and businessmen who feel it is too late to tell the truth,' he avouched. 'A seventy-year-old said he was facing death but had told no one he was gay. I wrote back and said: "Well now you have told me, so it is not too late to start!"'
McKellen-Stewart bromance became overplayed.
By the time they played in Waiting for Godot in New York, their 'bromance' had become exaggerated. One day in the city the two actors they posed on the streets wearing bowler hats and shorts. They were holding hands, munching on corn on the cob with Elmo. They also went on top of the empire state building. It was like a field day for all the photographers. It was quite evident that their friendship was something the world needs to see more off.  There was more kissing at the awards when Patrick received the Empire Legend Award which was presented to him by Ian.
'He's one of my heroes. He's that actor of my generation people would like to be.'
Till today the two actors share a close bond that need not be questioned on. It is refreshing to see a relationship like theirs that lasts for so long.
Next read: Wedding Bells Ring For The Lesbian Soccer Champs!
<a href="http://www.edom.co.uk/directory/">web directory</a>
https://www.advocate.com/books/2019/12/30/ian-mckellen-and-patrick-stewarts-relationship-explained