Mental Illness in Couples: Everything You Need To Know
Being in a relationship is a beautiful experience. It is also a very rewarding experience. But, there are times when the going gets tough and the relationship can become a burden. This impact on a couple and their relationship is often not given a closer look. This oversight is because of the traditional practice of mental health professionals focusing on symptoms within the individual. They overlook the patterns of how individuals relate to each other in a couple relationship. Traditionally, health professionals and researches have explored an individual's mental illness relating to their parents and vice versa. Mental illness in couples is less talked about.
This is in spite of the fact that mental health professionals all over agree that mental illness in couples is a very real issue. It is a known fact in the field that individuals who have a mental illness can have a negative impact on their partner's mental health.
Mental Illness – Support is key
If your partner struggles with mental illness, understanding their needs is vital. This is a challenging process. You need to learn how to support your partner living with mental illness while caring for your own needs, too.
Recognize the symptoms
This is the first and most important thing that needs attention. Because of the nature of mental illness, many people can't recognize how much someone may be suffering because their symptoms aren't outwardly apparent. Symptoms of mental illness can range from just concentration difficulties to something that can legitimately cripple your partner. Depression, severe anxiety and hallucinations are some examples. It's important to understand your partner's diagnosis and their personal experiences.
Read: BEING STUCK IN ISOLATION WITH MY HOMOPHOBIC PARENTS
Be a good listener
This is one of the best things that can be done to help your partner. Listening to a loved one in an effort to understand their experiences can be supremely helpful. It can be easy to assume you know what someone else is going through, however, the reality might be different. Mental illness affects individuals differently. It is essential to listen to the person experiencing it. This helps to better understand their perspective. It can also help provide better and effective support.
Here is a Q&A that can help you.
Pierre is a trained Marriage and Family Therapist and on the board of the BC Association for Marriage and Family Therapy. Here is what he had to say during the Q&A.
The Q&A:
How do I know if my spouse is struggling with a mental illness, or if they are just reacting to some adverse event that is putting stress on our marriage?There is a difference between having a persistent mental illness, and having a temporary stress reaction to an adverse event (i.e., job loss, marital separation).
My spouse is struggling with a mental illness. How do I help my spouse but at the same time make sure I don't burn out in the process?Being able to set some boundaries for yourself is important. Over-functioning on your spouse's behalf can lead to burnout, and will reinforce to the spouse that they can't do anything for themselves.
Could my spouse be suffering from a mental illness if they are violent toward me and others?Separate the behaviour from the cause. There is a relationship between abusive behaviour and mental illness (i.e., antisocial personality disorder), but some aggressive behaviour is reactive, or a learned pattern of coping.
If I develop mental health symptoms myself as a result of supporting my spouse, should I just get help for myself or should we try couples therapy?It's important for each person to get help for themselves, along with getting help for the relationship. Partners also need to find some of their supports outside the relationship and not expect that all their emotional needs will be met by their partner.
When do I know that everything has been tried and that I should begin to look at a separation?Couples therapy can help the couple heal the relationship. At the same time, couples therapy can help spouses develop more awareness, and this awareness may include recognizing that the relationship can no longer continue.
Couples therapy and Pink
Someone who has really benefitted from the above-mentioned couples therapy is pop star celebrity Pink. In an interview with the Today show, she revealed that couples counseling has been a godsend. She also stated that she and her husband Carey Hart have been in couples counseling for nearly 17 years.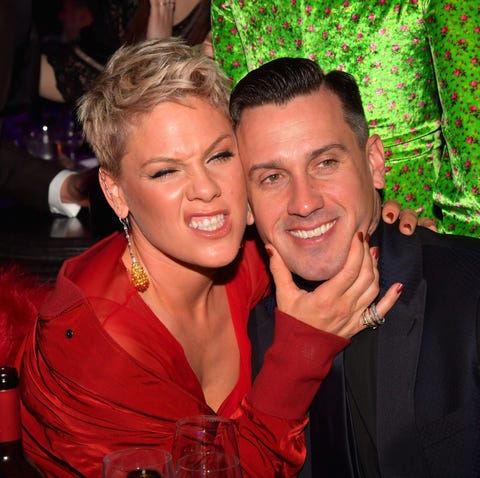 Talking about it, Pink said, "Carey and I have been in couples counseling almost our entire 17 years that we've been together. It's the only reason we're still together. [Hart] speaks Polish, I speak Italian, and she speaks both. We don't speak the same language. We come from broken families, and we had no model for, 'How are we supposed to keep this family together and live this crazy life?' And there's no book that says, 'Here's how to do this.' So we go to counseling, and it works."
Pink also discussed the taboo associated with mental health and said, "the taboo of it is all going away because more and more people are talking about it. I think talking about it is the most important thing and I know that anxiety is like, the number one thing that kids now are going through."
Next Read: HOW TO DEAL WITH ANXIETY AND STRESS FOR LGBTQIA+