The Biggest LGBT Event, Mr. Gay World India
"Inclusive, Diverse and Very Gay"
Not just another pageant but a search for global LGBT leaders of tomorrow, the Mr.Gay World India pageant has come a long way from when it started. It has become one of the biggest events hosted by the LGBT community in India, the winner of MGWI heads over to the international pageant Mr. Gay World to represent India.
There is an incredible diversity among the contestants which is amazing. Hailing from different parts of India like Jharkand, Orissa, and Pune; various professions right from a scientist, a teacher to a marketing executive, this pageant has it all.
Samarpan Maiti, a Scientist from Kolkata covered himself with glory while emerging triumphant in the prestigious Mr. Gay World India ('MGWI') 2018 Pageant earned the right to represent India at the Mr. Gay World 2018 Pageant scheduled to be held at Knysna in South Africa in May 2018. The Grand Finale being hosted at India's No. 1 Night Club 'Kitty Su', The Lalit, Mumbai on Saturday, January 13, 2018.
Sushant Divgikar has been credited for making the Mr. Gay World India pageant an incredible national event every year and spreading the message of diversity and exclusivity throughout the country and internationally as well.
The MGWI pageant has transformed since its inception into one of the best LGBT events in India today and Mr. Divgikar has to be credited for accomplishing this feat with the help of his amazing allies and network of friends and well-wishers.
"There has been a compete paradigm shift from where the pageant was to where it has reached"
Mr. Divgikar who is also the Director for South West Asia said, "When I had started off in 2014 as a participant and eventually the winner myself, nothing was funded for me, there was no organization that paid for my entry to the world pageant and even my winner SASH (mr. Gay India 2014) had to be paid for by me. I took a loan from my father for it all and paid him back in installments. Today, I pride myself in saying that the contestants that participate now have everything funded for them by my organization with the help of amazing allies and friends who have come forward to help me.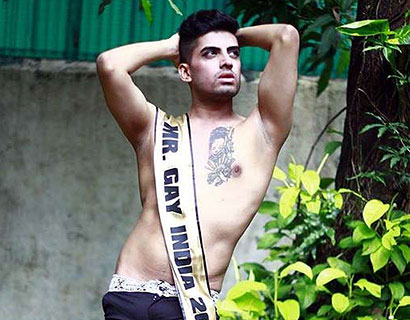 "I always say to everyone who wants to participate in this pageant that
If you believe you can do it, I believe you can do it!
"I was very lucky and privileged to have an exposure to a stage of this magnitude and believe everyone should get the same opportunity, just because they come from a small town doesn't mean you don't get a chance."
"All the top 5 contestant are very well deserving, different from each other and talented in their own way. I'm very proud of all of them. If we had multiple world pageants I would have loved to send all of them to different pageants to represent India," says Sushant.
India has been a very consistent contender in the Mr. Gay World pageant and we are sure we will be consistent in the following years to come as well.
It was most heartening to see persons both from within the LGBTQI community and staunch allies turn up in large numbers for the Grand Finale notwithstanding the fact that there were a host of Events lined up for the day at various locations across Mumbai as part of the Pride Month Celebrations. Most of them hopped from Event to Event and finally showed up for the first Open Grand Finale of the MGWI Pageant to enlist their support and make it memorable.
The entire LGBT community of India and MGWI in particular owe a collective debt of gratitude to the amazingly generous Keshav Suri for making the LGBT community a beneficiary of the Lalit Hospitality Group's diversity and inclusivity program. He has personally driven and overseen the transformation and rise of Kitty Su as the country's top Night Club Brand and has introduced LGBT friendly endeavors such as performances by legendary Drag Queens of international acclaim and through these efforts revolutionized the Drag Culture in India. All the Kitty Su outlets in India provide a safe haven and space for members of the LGBT community to socialize and organize LGBT friendly entertainment Events. Keshav's unstinted support and unwavering commitment has been monumental and one of the principal reasons for the immensely successful conduct of the MGWI 2018 Pageant.
FSOG wishes the MGWI Team and the winner of MGWI 2018, Samarpan Maiti all the best for the MR. Gay World pageant scheduled to be held in Knysna, South Africa in May of 2018.
May the odds be ever in your favor.