Orlando Shooting Exploited by Leave EU campaign In 'Shameful' Brexit Tweet
A group campaigning for the UK to leave the European Union has sparked a furious reaction after using the murder of 49 people in a gay club in Orlando in a pro-Brexit advert.
Eleven days before the referendum deciding whether Britain will remain part of the European Union, the Leave.Eu campaign, backed by UKIP donor, Arron Banks, tweeted on Monday that leaving the EU was a way to prevent an "Orlando-style atrocity" happening in the UK.
It also featured a picture, showing what appears to be a group of armed ISIS extremists and a banner saying 'act now before we see an Orlando-style atrocity here before too long.'
The tweet was later deleted following a raft of criticism from politicians and others. But people were quick to take screenshots, which are still circulating on social media and gaining momentum.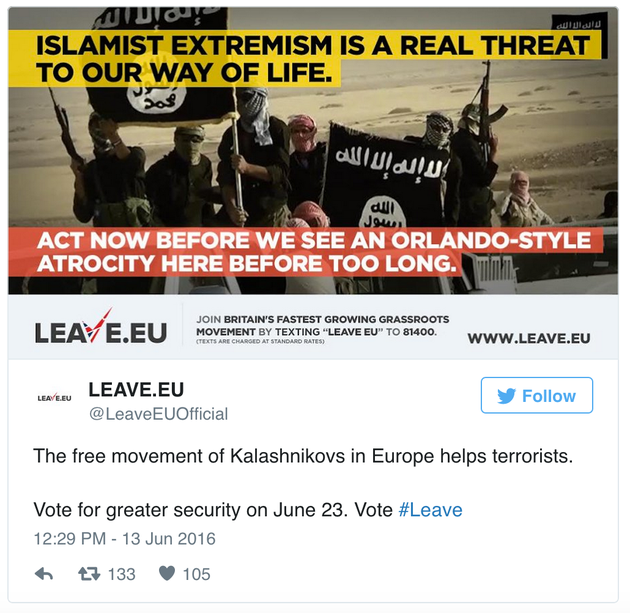 Leave.Eu's founder Arron Banks spoke to the Mirror after the tweet was deleted, but he didn't apologise for the poster or using the Orlando attack to further their political cause.
'We have studied at length what the Prime Minister himself has said about Islamist attacks in this country and we are all in agreement,' he said.
'We need to tackle ISIS and its exploitation of our good, Muslim communities. We stand side by side with everyone who wants to bring security to our world.'
In a statement, Education Secretary Nicky Morgan – a staunch supporter of campaign group Britain Stronger in Eurpe – described the poster as 'shameful'.
'Using the tragic deaths of innocent people to make a political point is simply shameful,' she said.
Leave.EU is campaigning for Brexit, but is separate from the official Vote Leave campaign headed by Boris Johnson and Michael Gove.