Rediscover The Art Of Phone Sex During Quarantine
Humanity has forever been horny. A pandemic isn't going to change that. It might change humanity's ability to act on the horniness but it can not change the state of horniness. These are testing times for everyone. Sexual energy is also under quarantine and this has left a lot of people frustrated. People are desperate for their loved ones' physicality. Sure, there's Skype sex and Face-time sex that can help. But, there's another one that's kind of forgotten but can be just as effective. Yes, we're talking about phone sex.
Let's take a quick look at why this could be fun and just as effective.
Revisit the good ol' form of long distance sex
Jess O'Reilly, PhD., who is the host of the @SexWithDrJess Podcast, talks about how phone sex has some benefits that are unmatched by its competitors. She states that phone sex eliminates a form of overstimulation that can sometimes happen with video sex. She also states that it allows people to focus only on auditory arousal.
"Audio-only sex leaves more to the imagination, and many people are primarily aroused by sounds — from the sound of a lover's voice to the sound of movement and rustling in the sheets," she explains. "Sometimes talking on the phone will encourage you to open up in new ways, as you won't be distracted by your partner's body language or facial expressions."
O'Reilly talks about how easily auditory senses get overwhelmed by other forms of stimulation during actual sex or video sex. In the book, The Ultimate Guide to Seduction & Foreplay, O'Reilly and her co-author Marla Renee Stewart explore such topics with aplomb.
"Research suggests that the sound of a lover's voice can be a turn-on resulting in increased electrical activity in the skin," O'Reilly and Stewart write in the new book. "Our voices may even indicate fertility due to hormonal fluctuations that effect blood flow and water retention in the vocal chords."
Phone sex is sexy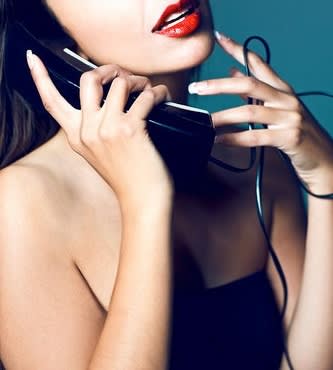 Phone sex can give you some much-needed training in this regard. O'Reilly specifically addresses this and talks about how phone sex helps shy beginners in a major way. It helps people talk more freely about what they want to try in bed. It also helps people talk about their desires and fantasies.
O'Reilly states, "Some people find that they're willing to explore fantasies over the phone that they won't disclose in person, as there is less pressure to act on them due to the limits of a phone call," she explains. "The distance of phone sex can attenuate feelings of undue pressure"
Some people who are even phone-shy might prefer to sext, but, it's often difficult to focus during a sexting session. There are just too many factors at play that end up interfering with the sexting session. Sexts at work, on the subway, while watching Netflix, while in the loo aren't really that sexy, are they? Sexting also does not let your hands do whatever is necessary to keep things escalating. O'Reilly says, "You might decide to touch yourselves while you're on the call or you might simply get one another riled up and then hang up so that you have two hands to finish yourselves off." She also states that the most important thing is to not "get hung up on one type of sex, as phone sex can take many forms."
Read: RELIGIOUS CONSERVATIVES BLAME LGBTQ+ COMMUNITY FOR CORONAVIRUS
What COVID-19 means for the LGBTQ+ community
A letter organised by the LGBT National Cancer network and signed by several other such organisations, there are concerns regarding the coronavirus and its' effects on the people from the community. The letter says the three factors that make LGBT+ people more vulnerable to coronavirus are; the prevalence of smoking in the LGBT+ community, higher rates of HIV and cancer, and barriers to healthcare that mean LGBT+ people are reluctant to seek medical treatment.
Dr. Scout, the deputy director for the National LGBT Cancer Network also said, "As the media and health communities are pushed into overdrive about COVID-19, we need to make sure the most vulnerable among us are not forgotten."
These are trying times. It is important that the members from the community recognize the importance of isolation and do whatever is necessary to keep themselves engaged. Phone sex is just one way to avoid travelling to meet your partner. Isolation IS important. Stay safe, people.
Next Read: Why LGBTQ+ People Are More Likely To Smoke?