Queer First Date Outfit Inspirations- Let's Pimp Up that Love Life
Hello dear Rainbow Tribe, how's your love life going? First dates can be intimidating for all of us. Especially if you have just begun dating and don't know how to swim through the queer pool. First dates are sufficiently stressful already. The kind of place you choose, planning your conversation starters, making sure you have all your friends on speed dial and speed text, and in India, making sure your relatives don't run into you. There is a lot happening. So why should your outfit add to the stress?
Here are a few outfit inspirations that not only will ease your process but also deliver the confidence you need to be your amazing self on your first date. Doesn't matter if you are queer, transgender, or non-binary, we have tips and date outfits ideas for all of you!
Fashion Tips
Identify your style: Feminine, masculine, androgynous, or a bit of everything? What do you feel the most you in? Now, hold onto that thought so that dressing yourself can get much easier.
What's Hot:
Comfortable clothing. By this, I do not mean pajamas unless it's that kinda date. Comfort is an important feature for dressing on your first date. You should not have to keep fixing your outfit every time you change your sitting position or walk in a breeze.
Dresses:
Shirt dresses, body cons, or a slip dress, take your pick. Sit down, stand up and jump around a little bit when you try out your outfit. Ensure you have the right inners to team with your outfit. Maroons, blacks, reds, deep purples and blues are the best for an evening date. For brunches or a coffee date, pick lighter shades and pastel colors of your choice and team with a pair of sunglasses and loafers for a fun look.
If you are someone who doesn't like showing off your figure then wear a slip-on dress with a jacket over it. This will give you a structure to the outfit without emphasising on your body. It will still look chic and sexy.  You can club this with a shirt inside, wear army boots, and tweak your hair for a slightly androgynous look.
If you are transitioning, then sundresses and slip dresses will make you feel more feminine. Body-cons can make you feel really hot and sweaty especially because of your hormonal changes. You can opt for shorter sundresses and pair it with stalkings and heels if you levitate towards sexy.
Shirts
A Crisp white shirt is sexy no matter who you are. Yes, this might sound very appealing on its own, but paired with a grey or red skirt can give you the oomph you need. For an androgynous look, pair a men's white t-shirt with a skirt, or a mom's jeans. You can also wear an oversized shirt and fishnets, with or without a belt to break the look.
If you think tucking shirts are a hassle, then pick a bodysuit. They work so much better for queer people. For those who are transitioning, locking it in might be painful. But the length and structure of the bodysuit will still help hold things in place.
Flannels and shirts with smaller prints can look more masculine.
Opt for darker coloured shirts that are slim fit or formal fit rather than skinny fit if you want to induce masculinity to your look. The same goes for pants. Straight cut pants, weather jeans or formals, can make you look more masculine.
You can also venture into lighter shades of shirts, but make sure the material you choose is thick so it does not lose form.
Avoid wearing T-shirts. T-shirts are an easy choice and add to the androgynous look very easily. Plain t-shirts can still add to the look, but printed ones just make you look like you don't care enough to make an effort. But if you still want to wear a tee-shirt, pair it with a cute denim skirt, or ripped jeans, formal pants, and add on a casual blazer. You could also try adding a belt to the outfit to attain structure.
Pants and Shorts
Take your pick. Personally, I love high waisted shorts because it makes you look tall and makes the pseudo-waist look petite. This is not to say that these are the beauty standards to live by. Tank tops with short shorts, casual shirts with knee shorts or bum shorts with a lengthy spaghetti top can all make you look great! Although, shorts are more of a daywear than evening-wear. Nothing a little glitter, or a lot of glitter cannot fix.
If you prefer pants you have an array of collection that can break the norms of fashion and still have you looking glam as hell. Bell-bottoms are making a comeback this fall, and frayed hems have been here long enough. Culottes with t-shirts and a denim jacket make for a kicker brunch look. Pair it with a hat or a pair of cat-eye shades and you're rock solid. You could also team them with kurtas and not kurtis, which are basically the long tops for men. These are usually plain and can give you a neat, polished look. You can also club the kurtas with straight cut pants corduroy pants, or cotton, cuff them at the ankle and add in a chunky jewellery piece on your finger or wrist, or even a nose pin.
Palazzos and leggings are almost heading out. But if you love them and want to use them in your outfit, keep your top short for palazzos, and long for leggings. Leggings do not scream date wear and can be seen as loungewear very easily. So wearing longer tops, or tops with glitter and shine can make that go away. Try wearing leggings with a bit of a print, or texture. Also, glitter, rhinestones, and cloth patches can give you a better look.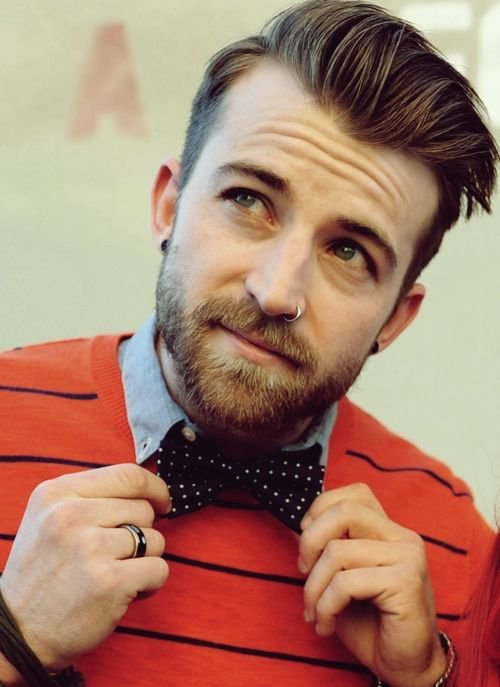 Accessories
Scarf/muffler: To hide your chest- Perfect for Transgender men to add glam and reduce dysphoria
Nosepin: Induce punk vibes, flower-like designs for a feminine touch, plain stones for a heavy look.