Queer Villains That Are Praised By The LGBTQ Youth
Throughout the history of Cinema, something has been catching our eye – How Queerness is connected to wickedness and villainy. Queer villains did what mainstream heroes could never do for us! They showed us that even in this odd world, it is okay to relate to someone who may seem to be different than others. We can understand their sexual identity even if it is not portrayed exclusively. The industry of film making often is filled with concepts that queer people are associated with villains. This is because of the stereotype that gay people are problematic and embracing their darkness makes one evil.
Let's have a look at some of these Famously Queer Villains.
Ursula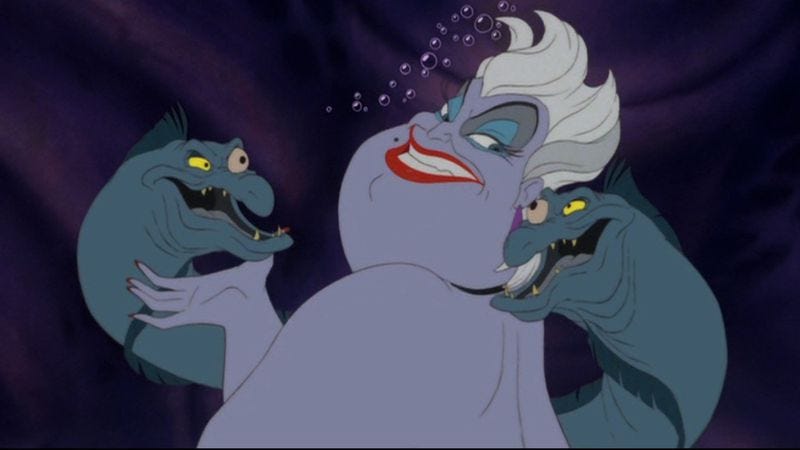 If you ever happen to rewatch The Little Mermaid again, you may probably start relating Ursula with someone you know. As it turns out, Drag legend and John Waters muse Divine is the inspiration for Ursula, in both appearance and demeanor. Sadly, Divine, real name Glenn Milstead, didn't actually get to bring Ursula to life. He died shortly after the release of Hairspray in 1988. That said, everyone who knew him said he would have loved the character.
 "Had he known about Ursula, he would have wanted to play the part himself,"

-said Jeffrey Schwarz, the documentarian who chronicled Milstead's life.
My mum pretending to be surprised when I told her I was gay after spending the majority of my childhood belting out Madonna & Cher songs and idolising Ursula from The Little Mermaid: pic.twitter.com/gxMZaOCPtq

— Steven Bonaventure x (@absolutegazelle) October 4, 2019
Grindelwald
Every Harry Potter reader discovered that the wise old Professor Dumbledore and Grindelwald had the love affair between them. When writer J.K. Rowling spilled this information, the internet went crazy. While many applauded the disclosed details, others thought of the expression as an attention-seeking effort by the author. However, having characters be explicitly queer or of different ethnicities in such iconic books would have been more powerful than a cultural statement. 
Their relationship was incredibly intense. It was passionate, and it was a love relationship. But as happens in any relationship, gay or straight or whatever label we want to put on it, one never knows, really, what the other person is feeling. You can't know, you can believe you know. So I have less interest in the sexual side—though I believe there is a sexual dimension to this relationship—than I am in the sense of the emotions they felt for each other, which ultimately is the most fascinating thing about all human relationships.

– J. K. Rowling, author of the much-loved series of seven Harry Potter novels
nobody:

every account on twitter:

   nobody:

   jk rowling: bertie bott's beans are gay

— 🚕 (@bobby) March 17, 2019
The Joker
There is a petition by Elena Shestakova, which is currently active for making Joker gay again in the Batman franchise. This opinion is common with other comic book authors and artists for decades. While Joker has been around for almost eighty years, his homosexuality has been a subject of discussion for many for a long time. Reversing the erasure of the Joker's queer identity also makes for more varied LGBTQ representation in the DC Universe, because sometimes fictional characters are something real people hold onto.
"Many comic books with the Joker has heavily implied homoerotic undertones. The most famous example is "The Dark Knight Returns", where the Joker was portrays a very feminine man using poison lipstick and lovingly calling Batman "Darling". In the original version "Arkham Asylum: A Serious House on Serious Earth" the Joker was supposed to be in a dress and in high heels, but it didn't pass the censorship (also the script remarked that the Joker is a transvestite). A more recent example is the uncensored version of Death of the Family, where the Joker confesses his feelings to Batman (and he does this before in other comics)."

– Elena Shestakova, Change Petitioner
For anyone doubting whether the Joker is queer-coded, FRANK MILLER literally said this: "The homophobic nightmare is very much part of the Batman/Joker mythos."

— Gavia Baker-Whitelaw (@Hello_Tailor) October 1, 2019
Scar
This Lion King character remains one of those who are thought of as queer. However, the makers never explicitly mention it this way. Scar is one selfish character, but his "revolution" promises empowerment to the most marginalized groups, redistributing Pride Rock's wealth to the creatures which inhabit the "shadowy place." Queer-coding is not so much about explicit sexuality, but about the appearance, expressiveness and gender performance of a character. Typical discussions of Scar's identity has been framed in negative criticism, touching on his "stereotypical movements and affectations." His exaggerated facial features are likened to drag makeup, and his slender physique (as compared to the broader, larger Mufasa) is rendered to emasculate him.
"The Lion King" puts down the trope of using performed femininity and darkness as a way to visually communicate evil. It's small, but the representations we consume can communicate a lot and Disney has been a notorious culprit of this.

— Myles E. Johnson, a Black queer writer
This CGI Scar is not gay enough!!!!!! I lived for Scar as a kid, the way he moved, the way he laughed. I used to have my mom play his villain song on my Lion King cassette over and over again in the car. pic.twitter.com/8qh6KIOD2A

— Emily Gaudette (@emilygmonster) April 10, 2019
Cruella De Vil
Cruella's status as an outsider is widely noticeable to one. Her obsession with fur and her style was kind of a giveaway to most people. Some think that she's a lesbian. While the evidence is compelling, it's not conclusive. However, many have opened up about understanding Cruella's persona and wanting to be like her while growing up.
 "On coming out the tabloid press represent me as if I am Cruella de Vil. They've stopped putting 'lesbian Sandi Toksvig' whenever they mention me. I don't know whether it's because it's a given, or they've just given up. I'm still a lesbian."

–  Sandi Toksvig, Gay comedian to The Gaurdian
Read Next: This Trans Model Kisses Her Husband's Baby Bump and It Is The Cutest Thing Ever