The Rainbow Cards Project Has Our Heart This New Year!
The LGBT+ community lacks acceptance. This is the most basic thing the community has to live with. And the holiday season only reminds us all how much pressure hangs over us. But this Bi-trans man decided to burst the glum and do something beautiful to wish thousands of people a very merry Christmas! Thanks to his rainbow cards project.
Ellis Roberts-Wright, a young 21-year-old started the Rainbow Cards Project four years ago and has managed to spread happiness and joy ever since!
The Rainbow Cards Project
Ellis Roberts-Wright runs the project out of his house in Axminster, England. This year, he sent out over eight thousand cards to LGBT+ individuals! The individuals who were disowned by their families and spread a little cheer in their lives.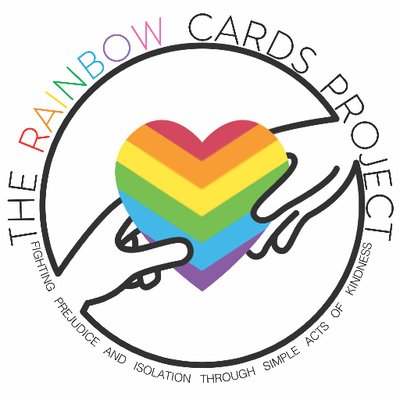 His decision to do this for the LGBT+ individuals was a consequence of a series of problems he faced. According to LGBTQ Nation, he spent a whole year recuperating in bed from myalgic encephalomyelitis, before he began the project. Myalgic encephalomyelitis is a chronic fatigue syndrome that made it impossible for him to feed himself or hold a conversation.
His physical health was extremely bad. His parents had to feed him and take extensive care of him. And when he was going through a difficult time, his friends sent him letters. He was so moved by their love that he began to think of other LGBT+ individuals who did not have supportive families. Even though his parents were the accepting kind, and took his coming out well. He knew not everyone was as lucky as him.
He told DevonLive, "Not getting Christmas cards is a symptom of a much larger rejection, it's not the Christmas cards, it's that their family doesn't love and support them anymore."
Pause The Isolation
He further explained that his cards are sometimes the only ones a few people have ever gotten. And a few write back to his P.O. box. They thank him for his kindness and tear up while appreciating him. While some of them even told him that this card saved them after years of isolation.
Most of those who receive the cards are from the United States and Britain and other countries where being gay is considered illegal. He said, "For trans recipients, it's quite a big thing. A lot of them don't have people in their life who call them by their own name, or address them by the right pronoun."
Ellis Roberts-Wright is among the lucky people who had an accepting family. And he took the chance to do something for the community knowing their drawbacks. Cards are one of the most underrated things we know of now. But receiving cards during Christmas is an extremely popular ritual practiced across borders. And the project is a great way to spread cheer but not too much to trigger the blues that come with the holiday season. And it designed to only send cards to people who register on the website.
Card For Every Occasion
The rainbow card project does not limit itself to Christmas. Even though over 8000 cards were sent out this year. But to receive a card, people have to provide an address on the Rainbow Cards Project website. And that is all. Ellis Roberts-Wright will definitely send them a card! He also sends out birthday cards and other holidays if people want it.
He says, "I knew I could never replace someone's relatives, but I figured I could reach out with a little kindness and help them feel like a part of a bigger family; a family that doesn't care who they love or how they identify – the international, multi-racial, hundred-language-speaking family that so many of us find within the LGBTQ+ community."
People are also encouraged to donate and send a card themselves. This is the aim of the project.
At The Rainbow Cards Project, we believe that small gestures can have big impacts, so our aim is to combat the isolation, prejudice, and fear LGBTQ+ people often face, one card at a time.
The project addresses the problem of ostracisation and unacceptance one card at a time. The project is driven to help people feel more accepted in society. And even though people who sign up know what they are signing up for, it becomes a two-way street that allows people to take care of themselves. Be enough and more which in itself is something to say.
The world needs more people like Ellis Roberts-Wright and his Rainbow Cards project that allows the community to meet the needs of the community. The option to be self-sufficient and giving. What other things can we set up to help the community do better on their own? To feel acknowledged and loved? Let us know your ideas and wishes for the community and help us build a platform where you can voice out your opinions!
Read Next: ADOPT CHILD WITH DOWN-SYNDROME? THIS GAY SINGLE GUY SAYS HELL YES!
<a href="http://www.pr8directory.com/">PR8 Web Directory</a>
https://www.therainbowcardsproject.org/about
https://www.pride.com/news/2019/12/29/guy-sent-8000-holiday-cards-lgbtq-people-holidays?utm_source=hornet&utm_medium=hornetapp&utm_campaign=hornetpartner
https://www.lgbtqnation.com/2019/12/bi-trans-man-sends-4000-christmas-cards-lgbtq-people-disowned-families/