10 Resolutions To Add To Your List This New Year
Christmas is over. But we are still in the holiday mood because the new year is approaching. And like any other new year, we probably have a few resolutions on our minds. The LGBTQ community isn't far from making their own. We might not be able to change a lot happening around us but we sure as hell can change something within us.
Well, it might be hard to come up with a few new changes. Let us help you out. We have some resolutions for the LGBTQ individuals to add to the list.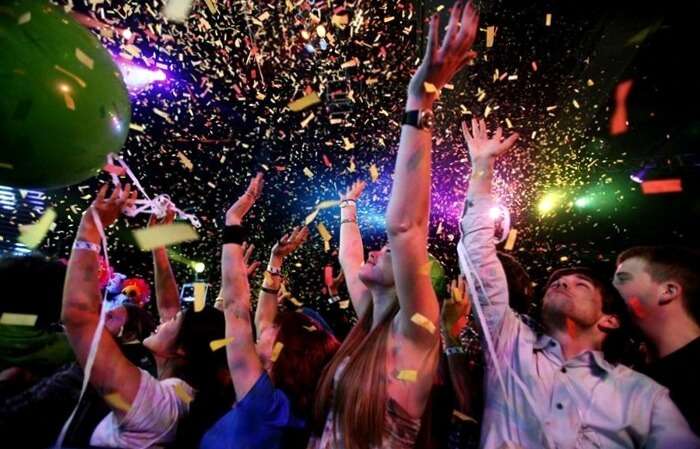 Lets ditch technology and meet new people.
There are many applications like Grindr and Chappy that help you meet your mate. It is easy to find someone through these apps but why not try something new this year. Get out and actually meet eye to eye with another. You might be shy and uncomfortable at first. But hey, getting out of your comfort zone can be a new resolution you can follow this year. Let's not ditch the apps entirely. But there is no harm in maybe experiencing love at first sight?
Move away from your phone.
It is new years eve. You want to take pictures and post them on all social media handles. But how about we try something different this year. Let's cut down the time spent on social media and spend more time talking to friends and family. Try to actually hang out with them rather than spend time to update your Instagram account.
Maybe try a new genre of music.
Pop divas like longtime LGBT ally and icon Ariana Grande are great. They have really left a mark on many LGBT individuals. This new year you could try a new genre of music. There is a lot of music out there just waiting to be explored. Explore, be open to new music this year. There is always another year you can lean back on the divas.
Learn the queer history.
Since we are on the topic of LGBTQ, why not get to know more about the community. Have you heard about the riots in Stonewall Inn? It was an event that changed so many things for the LGBTQ communities. That is probably not only the one. LGBTQ individuals have made history in many parts of the world. Find out, read more. Knowledge is never too little. You never know. Maybe this new year you can bond with a mate on topics that have brought about a huge change to our society.
Never stop fighting. Go at it harder.
LGBTQ individuals are always fighting for equal rights. No matter all the protests. But we can not stop there. Some sign petitions, some make phone calls. While others never stop resisting. There is always something to do more. Take an active part in politic this year. And maybe you could be the one that makes a big change in future events.
Stay healthy. Have safe sex.
The holiday season is that time of the year where everything takes a back seat. You give in to your emotions. You get overwhelmed with everything that is happening around you. But let's not forget how important it is to be protected. You would not want your new year to start off with bad news. Use condoms, get regular health check-ups and get tests for HIV and many other things to stay healthy this year and the years to come.
Drag is not a dying art.
Critiquing drag is one thing. Trying it for yourself is a lot harder than it looks. How about this year you explore the drag side of art? This resolution is one that should be added to everyone's list. Drag is an art that should be explored by all. Put on those six-inch heels, tape a wig to your head. That is when you will know how hard it really is. These queens just make it look that easy.
Find a new adrenaline rush.
Drinking and drugs are one thing. But it is just tampering with your health. Find something new that excites you this year. You could try skydiving, take up a new dance form, take up solo traveling or maybe just eat alone at a restaurant. Small things also give a different kind of rush.
Point out sexual assaults.
Most just ignore the situation they see only because it is difficult to talk about it. Assaults on gay and straight individuals have become fairly often these days. But most of them go unnoticed. Speak up and tell people about what is happening in your surroundings. It is crucial to communicate the issues at large.
Learn to love yourself.
A lot of people have the issue of not loving yourself for who you are. People criticize you, talk about you. But should that really affect how you feel about yourself? Your opinion of yourself is the only thing that should matter. This new year make resolutions to only love yourself no matter what people have to say about you.
Next read: The Types of Gay Kisses You Would See This New Years!
<a href="http://www.pr8directory.com/">PR8 Web Directory</a>
https://www.pride.com/holidays/2019/1/01/14-queer-new-years-resolutions-you-can-make-2019#media-gallery-media-10

http://www.firstpost.com/weekend-specials/the-queer-guys-guide-to-18-new-year-resolutions-for-2018-4281909.html