Same-Sex Marriage Officially Legalized In Northern Ireland
Same-sex couples are now able to register the marriage for the first time in Northern Ireland. This started on January 13th. Emma and Danielle were one of the couples who celebrated their wedding day by taking beautiful photos standing on the Free Derry Corner. And these pictures have gone viral.
Northern Ireland finally allows same-sex marriages.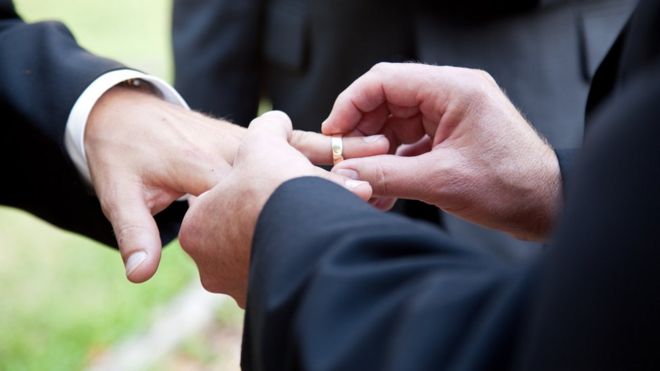 The law that passed recently in Northern Ireland states that couples can officially give notice of their intent to form same-sex civil weddings. Moreover, those who are already married can recognize their marriage in the region. Also, heterosexual couples can enter into a civil partnership.
The Love Equality Campaign for Marriage Equality states that it took five years of campaigning to bring about marriage equality. This marks a huge step forward for the LGBTQ+ community in Northern Ireland. There were many LGBTQ issues to be addressed before couples had the same rights as non-LGBTQ+ individuals. The organization said they would continue to work towards ensuring civil partnership conversions and other issues.
The organization celebrated with thousands of people. These are those people who voiced their opinions and demanded change. In spite of all the barriers they faced, there were many who stepped forward.
"This is a historical day for human rights and equality in Northern Ireland."
it had been too long since LGBTQ people have been treated like second-hand citizens. But this day was an incredible moment for same-sex couples. This was the day when couples could finally have their marriage recognized as equals.
"Today, and the weddings which will follow next month, mark the culmination of years of campaigning and we thank our colleagues in the Love Equality coalition and every supporter who helped make this day a reality."
Emma Bradley and Danielle Doherty celebrated in their own way.
It has been four months since the couple tied the knot. The couple is from Derry, Northern Ireland. But unfortunately, they could not marry in Derry as it was still illegal for same-sex couples to register at the time.
On September 13, 2019, the couple got married in Letterkenny. Letterkenny is in the Republic of Ireland. Same-sex marriages were legal here since 2015. Emma and Daniele decide to take their wedding pictures in Derry before driving to Letterkenny to legally tie the knot.
Emma told PinkNews that Derry was their home. And free Derry corner is one of the most recognized places in the city. That was where they took their wedding pictures. The place is significant to many. But for LGBTQ couples it represents being free of who they are. She adds, "we were proud to stand in front of an iconic place to demonstrate our civil rights; just like the generations before we did."
Today the couple is legally married in the place they have always wanted to be married in. It is disappointing that it took so long. But it is a great way forward for the younger generation. Those who want to show their love in their hometown. Regardless of their sexuality.
"For us, Derry is our home, and Free Derry corner is one of the most recognisable landmarks our city has."
Free Derry corner.
The couple explained that they had taken pictures in Derry before their wedding. They wanted to incorporate Derry on their special day. They picked Friday the 13th as it was an unconventional day. And they wanted to do it in a way they felt was unconventional. The couple got ready together in the morning and did something that others won't expect of them.
They hired a wedding photographer Lisa Byrne of Holly and Lime Photography. She took some stunning pictures of them in Derry. The lesbian couple dressed up in the white wedding gowns. They looked like angels in white.
They picked the Free Derry corner because it represents being free to be who you are. "We met up a couple of weeks before their wedding and they suggested having a photoshoot in Derry before the ceremony, which was in Rockhill House in Letterkenny. They wanted to have some photos around the Bogside and various places in the town," she said.
The couple's pictures went viral recently. Many people from the LGBTQ community and outside loved looking at the beautiful pictures they had taken. Everyone praised them immensely. They looked stunning and more importantly, the couple looked happy. They finally did what they wanted and it turned out to be a success.
I don't think there will be any pictures in 2020 better than this one. — James Wilson (@jameswilson1919)

Free indeed! What a beautiful photo – congratulations to the brides! ❤️ — Patricia Harrison (@harrison1_trish)
We hope to see more such weddings of same-sex couples in the future. Now that it has been legalized, many couples would be willing to share their stories. Let's wait and see.
Next read: Celebrities You Didn't Know Were In Same Sex Relationships
https://www.pinknews.co.uk/2020/01/13/breathtaking-photo-derry-same-sex-marriage-northern-ireland/

https://www.pinknews.co.uk/2020/01/13/northern-ireland-same-sex-marriage-equality-legal-weddings-uk/