Tata Steel Marches Into Progressive LGBT+ Workplace Policies
India is not a country that welcomes change very easily. And let's be honest, the decriminalisation of Section 377 did not affect many peripheral groups. The LGBT+ related laws make a difference to those who have a certain privilege. And the rest rarely have access to this information, or cannot make use of the information they have. So Tata Steel's new initiative could be an attempt to bridge this gap of sorts.
Tata Steel's New HR Policies
On Monday, Tata Steel announced something big. A plan that not many other companies in India have pulled off. They have decided to change their HR policies that allow people from the LGBT+ community to register their partners and avail benefits! The same benefits that the straight population can avail.
And this change is made legally thus equating the LGBT+ employees to the rest of them. According to The Hindu, the company has the vision to provide equal opportunity to the employees. And the endeavour is to "create an enabling workforce for all the diverse groups, respecting and embracing the difference in the individuals"
And they also extended the meaning of a 'partner' to accommodate same-sex couples. Since gay marriage is not exactly legal in India, Tata Steel curved that ball too. According to them, "Partners mean people of same-sex living like a married couple".
Kudos to Tata Steel for being able to envision HR Policies that bridge the gap between the straight community and the LGBT+ community. Despite the lack of legal provisions, this permits LGBT+ individuals to claim equal rights.
Diversity and Inclusion Initiatives
Most bigger companies have a few policies that allow for diversity and inclusion in the workforce. This also ensures that individuals are not discriminated against based on ethnicity, race, and other such societal demarcations. This has only recently included providing equal opportunities for men and women after a strong feminism wave. And D&I for the LGBT+ community is much newer than that. So there's a lot of catching up left for companies to do.
For Tata Steel employees, the expansion of diversity and inclusion (D&I) policy means that their partners will be able to avail of a long line of benefits. According to The Hindu, the list includes health check-up and medical facilities. They also get adoption leave, new-born parent and child care leave, and inclusion in employee assistance programme (EAP).
And if you're thinking these changes do not take transgenders and transexual into consideration, you are wrong. The employees also have a provision to gain financial assistance for gender reassignment surgery. And to support them through it, Tata Steel has added a 30 days special leave. The steelmakers are making progressive changes and we are glad.
Being World Class
Tata Steel is a big company whose actions and policies can affect how the LGBT+ community is perceived in the workforce. And their new HR policies are exactly what other companies can be inspired by. The steelmakers say that the employees will be eligible for Tata Executive Holiday Plan (TEHP), honeymoon package as well as domestic travel coverage. Their statement read,
"The company's vision is to be a world-class equal opportunity employer where everyone is respected and every voice is heard. It is a constant endeavour of the company to create an enabling workplace for all diverse groups, respecting and embracing the differences in the individuals".
The company has also updated its interaction with its LGBT+ employees too. They have changed their policy to now welcome employees and their partners to participate in an official gathering, an offshore corporate event, and any other official events too. The policy used to be stunted to "spouses of opposite gender were included", the company said.
What's happening in India LGBT+ workplace wise?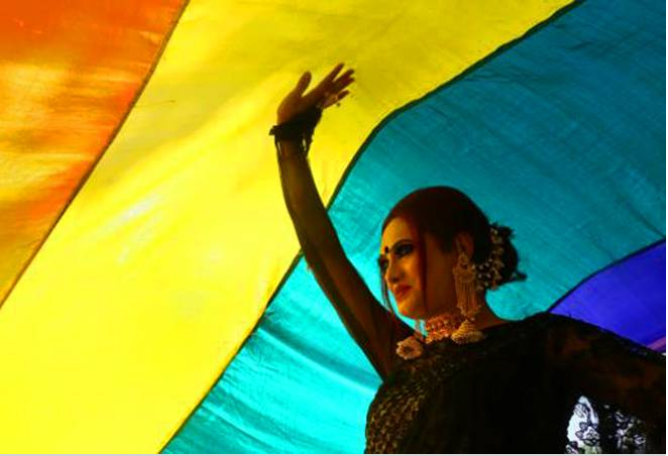 Tata Steel made the announcement on the 10th of December 2019. Almost a whole year after the decriminalisation of Section 377. Around the time of the judgment, many MNCs and companies showed their support to the community.
Accenture was one such company. They have made a space for their LGBTQ+ employees to share their journeys. This space also opened up conversation between allies or straight LGBT+ supporters and the members of the community.
While Godrej has HR policies that are gender-neutral. Parmesh Shahani, Godrej's Culture Lab Head admitted to the same. "Our anti-harassment policies are gender-neutral. We also have equal benefits to same-sex partners of employees, fully paid three-month adoption leave (which is also gender-neutral) and a medical benefits scheme which includes the spouse/domestic partner, parents and/or children of an employee".
We also saw diversity job fairs like Vividh was held in many B1 cities that had big companies join in. LGBT+ centric job fairs thus allowed the LGBT+ individuals to overcome the discrimination they repeatedly had to face because of their sexuality.
Maybe we can finally say that the country has seen considerable progress in the past year.
https://www.thehindu.com/news/national/tata-steel-asks-lgbtq-employees-to-declare-partners-avail-hr-benefits/article30248973.ece