The Rainbow Wire | Today's Top LGBT News
Welcome to FSoG's Rainbow Wire! Here are the crucial LGBT news from across the globe that you must not miss.
Security guards assault women attending LGBT event
On Sunday, two women wearing rainbow badges were blocked from entering Beijing's 798 art district, according to witness accounts posted online. Videos showed police punching and knocking down one woman, after which another woman attempts to hit a guard before she is also punched and knocked down.
click here to read more.
Pakistan passes landmark Transgender law

Pakistan's parliament has passed a law guaranteeing basic rights for transgender citizens and outlawing discrimination by both employers and private business owners, a move hailed by activists as "historic" for the conservative South Asian country.
Members of parliament voted to pass the wide-ranging Transgender Persons (Protection of Rights) Act in the capital, Islamabad, on Tuesday.
click here to read more.
LGBT Advocates urge Canadian school board to raise the rainbow flag for Pride month
If retired school superintendent Carol Speers has her way, in June all 242 schools in the Peel District School Board (PDSB) will be flying a rainbow flag for Pride Month.
In this aspect, Peel has fallen behind other surrounding school districts, including Halton, York, Durham and Toronto — all of which already fly the flag at certain times of the year. And that has Speers worried.
"I have the hope, in my heart of hearts, that they'll do the right thing," she told CBC Toronto on Friday.
"I have to have that positive stance for myself or it would be a depressing place to live."
click here to read the full article.
LGBT Lawyer Dies After Setting Himself On Fire 
David Buckel, a 60 year old LGBT lawyer known most for his work Brandon Teena, a transgender man who was murdered in Nebraska. Hilary Swank won an Academy Award for her portrayal of Teena in the 1999 film Boys Don't Cry
The charred remains of the lawyer were found by passers-by in Brooklyn's Prospect Park. Police said he was pronounced dead at about 6.30am. in New York on Saturday, reportedly using fossil fuel in a protest against ecological destruction.
The New York Times said it received an emailed copy of the note, which said: "Most humans on the planet now breathe air made unhealthy by fossil fuels, and many die early deaths as a result – my early death by fossil fuel reflects what we are doing to ourselves."
The Daily News reported Buckel left a suicide note in a shopping cart near his body that said he hoped his death was "honorable" and "might serve others". In the note, Buckel said "I just killed myself by fire as a protest suicide", the News reported.
To read more on this unfortunate event click here 
A Law Has Been Passed In New Zealand Erase Historical Gay Sex Convictions
New Zealand has passed legislation to allow people who were previously convicted of homosexual offenses to have their criminal records wiped. Currently men who were convicted before homosexuality was decriminalized in 1986 still have the offense listed on their official records.
About 1,000 people will be eligible to have their records cleared when the scheme kicks in next year.Lawmakers also apologized to those previously affected by the convictions.
Justice Minister Andrew Little said the legislation "sends a clear signal that discrimination against gay people is no longer acceptable, and we are committed to putting right wrongs from the past. 
"I would like to apologize again to all the men and members of the rainbow community who have been affected by the prejudice, stigma and other negative effects caused by convictions for historical homosexual offenses," Mr. Little said.
Read more on this by clicking here.
LGBTQIA Americans wont be included in the American 2020 Census 
The story that caused a firestorm, "LGBTQ Americans Won't Be Counted in 2020 U.S. Census After All," was from NBC News.
Meghan Maury, policy director at the National LGBTQ Task Force argued, "The Census controls billions of dollars in federal funding, determines our representation at the state and federal levels, and impacts scores of other programs like how our school districts are drawn. The Trump administration appears to be hellbent on erasing LGBTQ people, but the reality is we are a significant part of the population. We're here, we're queer, we're not going anywhere. We deserve to be counted in the Census."
Click here to read the full story.
Popular LGBT Website banned in Russia for 'Propaganda of Nontraditional Sexual Relations'
Russia's state media regulator has added a prominent website for the Russian gay community to a list of banned sites for violating a law on gay propaganda.
In 2013, media regulator Roskomnadzor said the Gay.ru website did not violate the gay propaganda law that passed the same year. Polls show Russian attitudes toward homosexuality deteriorating since the passage of a law banning "propaganda of nontraditional sexual relations among minors."
Click here to read the full story.
Armed man hurls gay slurs outside LGBT club in Raleigh
Wake County man was arrested Monday night after going on a homophobic rant while brandishing a handgun outside a gay-friendly nightclub in downtown Raleigh.
It happened late Monday night at the Ruby Deluxe bar and nightclub on the 400 block of Salisbury Street.
The two-year-old bar bills itself as a "safe space" for the local LGBTQ community.
But Raleigh Police said one customer had other ideas on Monday; he arrived at the night spot with a backpack loaded up with a gun, a knife, and a Taser – and he was throwing around gay slurs.
Click here to know more.
Trans woman from India seeks mercy killing for being refused at a job at Air asia solely due to her gender
Shanavi Ponnusamy, a talented transwoman who is more than qualified and eligible for a job she seeks, was denied the job only due to the fact that she is trans. With plenty of achievements to her name: The first graduate from  family, an engineer, a model, and an actor, who also has experience in customer support for a national airline.
"I kept thinking I was doing something wrong, and tried to work on myself. In July they actually put out an advertisement for vacancies for female cabin crew. But when they rejected me the fourth time in August, I finally asked why, and realized that it was because I am a trans woman," she says.
Click here to read the full article.
Indonesian's LGBT community under threat as government sets sights on making gay sex illegal
In the conservative province of Aceh, police have raided hair salons and publicly shamed a group of transgender hairdressers, while in the nation's capital, politicians are finalising new legislation which will make gay sex illegal.
Police in a conservative province of Indonesia forcibly shaved the hair of a group of transgender women and made them wear men's clothing, state media reported, in a crackdown on the LGBT community that has horrified human rights activists.
Click here to read more.
Paducah passes 'historic' city ordinance to protect LGBT community
Paducah became the first city in western Kentucky to pass an anti-discrimination ordinance that would protect the LGBT community.
In a 4-1 vote of Paducah city leaders on Tuesday evening, the western Kentucky town of around 25,000 people became the ninth city in the state that have fairness ordinances, explicit laws that prohibit discrimination in housing and public services to the LGBT community.
"It was a historic night in Paducah and western Kentucky," said Chris Hartman, the director of the Fairness Campaign. "I think we'll see a trend of this passing in other cities down the line."
Time's Up: Golden Globes 2018 Tackles Sexual Assault With Mixed Results
Time's Up is a movement against sexual harassment founded in 2018 in response to the Weinstein effect and #MeToo.
Inspired in part by the #MeToo movement, Time's Up's goal is to expand the conversation beyond accusations of sexual harassment to include advocacy for those affected by it. According to its website, the Time's Up movement is a "unified call for change from women in entertainment for women everywhere. From movie sets to farm fields to boardrooms alike, we envision nationwide leadership that reflects the world in which we live."
Cardinal hosts LGBT prayer service in cathedral featuring Drag Queen, Conchita Wurst 
Viennese Cardinal Christoph Schönborn co-hosted a homosexual-themed prayer service in his cathedral earlier this month for World Aids Day. The event in St. Stephen's Cathedral included speeches given by a world-famous 'drag queen' and a homosexual activist from the pulpit within the sanctuary.
Click here to read more
Donald Trump has endorsed extreme homophobe Roy Moore's bid for the Senate, despite allegations of sexual assault and child molestation.
The disgraced ex-judge was ejected from the Alabama Supreme Court for abusing his authority in a bid to block gay weddings. He has previously compared gay sex to bestiality and paedophilia, and has ties to 'death to gays' preachers.
If elected, Moore would be the most homophobic Senator in modern history.
Wes Goodman: Anti-LGBT Republican politician 'caught having sex with man in his office' facing 30 sexual misconduct
An anti-LGBT Republican politician who was allegedly caught having sex with a man in his office is facing more than 30 accusations of sexual misconduct.
Wes Goodman, a state legislator for Ohio, has already been forced to resign after a witness to the reported extramarital affair told the Ohio House Chief of Staff.
But now Mr Goodman is facing a host of complaints after alleged victims shared screengrabs of conversations with right-leaning news website the Independent Journal Review.  Click here to read more.
LGBT community in Turkey fears government crackdown
Turkey's LGBT community says the government's banning of LGBT events is not only an illegal curtailing of personal freedoms but further proof of the government's anti-secular agenda, with some saying they are increasingly worried for their safety.
Respondents to a Guardian callout said they thought Recep Tayyip Erdoğan was waging a war against them, and they felt a change in mood towards their community across the country – including in areas where they had previously enjoyed personal freedom. Click here to read more.
Young LGBTI People Are Invisible In Australia's Homelessness Crisis
The public has voted in favour of marriage equality, but the right to marry is only one piece of the puzzle. Everyone is talking about walking down the aisle; however, the reality is that LGBTI youth are sleeping on the streets.
The debate on marriage equality has sparked new heights of LGBTI activism throughout the country. Yet the vote, which was non-binding, non-compulsory and cost $122 million, eclipsed our attention and financial resources from other areas of advocacy.
In 2014, the General Social Survey in Australia found that 34% lesbian and gay people and 21% of people with "other" sexual orientations had once recorded being homeless, compared to 13% of heterosexuals. There is no data being collected on how many homeless youth identify as LGBTI, but practitioner accounts indicate a high figure. In Canada, the UK, and the United States, reports have shown that 25-40% of homeless youth identify as LGBTI. Click here to read more.
China's Public Hospitals Are Still Electroshocking LGBT People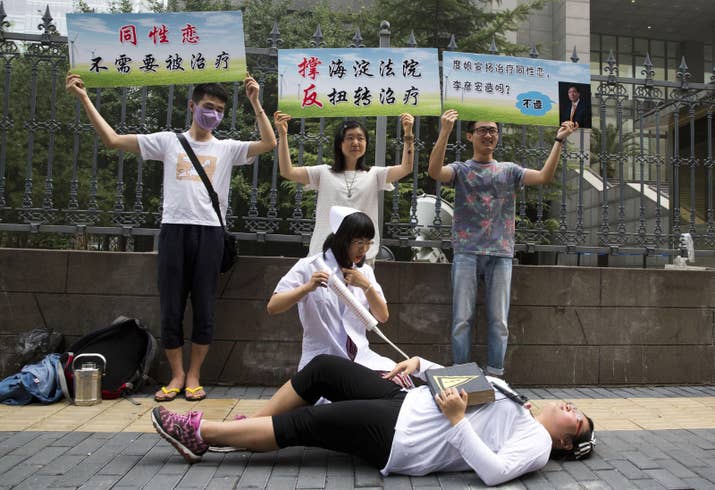 China's government is failing to crack down on conversion therapy, a dangerous and abusive practice that aims to forcibly turn gay people straight, Human Rights Watch said in a report released this week.
Seventeen people interviewed by Human Rights Watch said they had been subjected to electroshocks, been confined against their will, and had medication forced on them. Most of those people endured the treatment at hospitals overseen by China's National Health and Family Planning Commission, the top healthcare regulator in the country. Click here to read more.
Anti-LGBT Crimes in Russia Has Double Since 'Gay Propaganda' Law
Hate crimes against LGBT people in Russia have doubled since the nation's adoption of its "gay propaganda" law in 2013, according to a new study.
The study, released Tuesday by the Center for Independent Social Research in St. Petersburg, analyzed 250 crimes, 200 of which were murders, Reuters reports. The Reuters article did not provide annual figures for crimes, simply saying they had doubled. It did note that the number of sentences for anti-LGBT hate crimes had also increased, to 65 in 2015 from 18 in 2010. Most of the victims were gay men. Click here to read more.
Have we missed out on any news? Or do you have a lead to share? Get in touch with us on getinvolved@fiftyshadesofgay.co.in with the subject 'The Rainbow Wire'.