Transgender Dating App To Launch In India For The First Time
It is not easy to find a date in India. Sneaky aunties, societal rules, and regressive patriarchal ideologies. It is even harder for transgenders to get dates in India. India has many dating apps for straight people. We have Tinder, Happn, Bumble and many more. Even though there are these apps, it is hard for transgenders to click with another. The butterfly is aimed to get that obstacle out of the way!
Butterly- A transgender dating app
The rejection rate of transgenders is quite high in terms of responses. That is why the UK based Minns launched this app to make it easier for transgenders to find their partner.
The butterfly is a dating app that is being launched in India for the first time. This application was first launched in the UK in October 2019. The butterfly is for all those people, of all genders, who are interested in dating transgenders.
Currently, Butterly has over 42,000 users and is spread across countries like Australia, Canada, France, Germany, Israel, New Zealand, Spain, the UK, and the US. On January 6 it was launched in India as well. In India, it is probably the hardest for transgenders. But with this dating app, it might make a difference.
But how does this app work?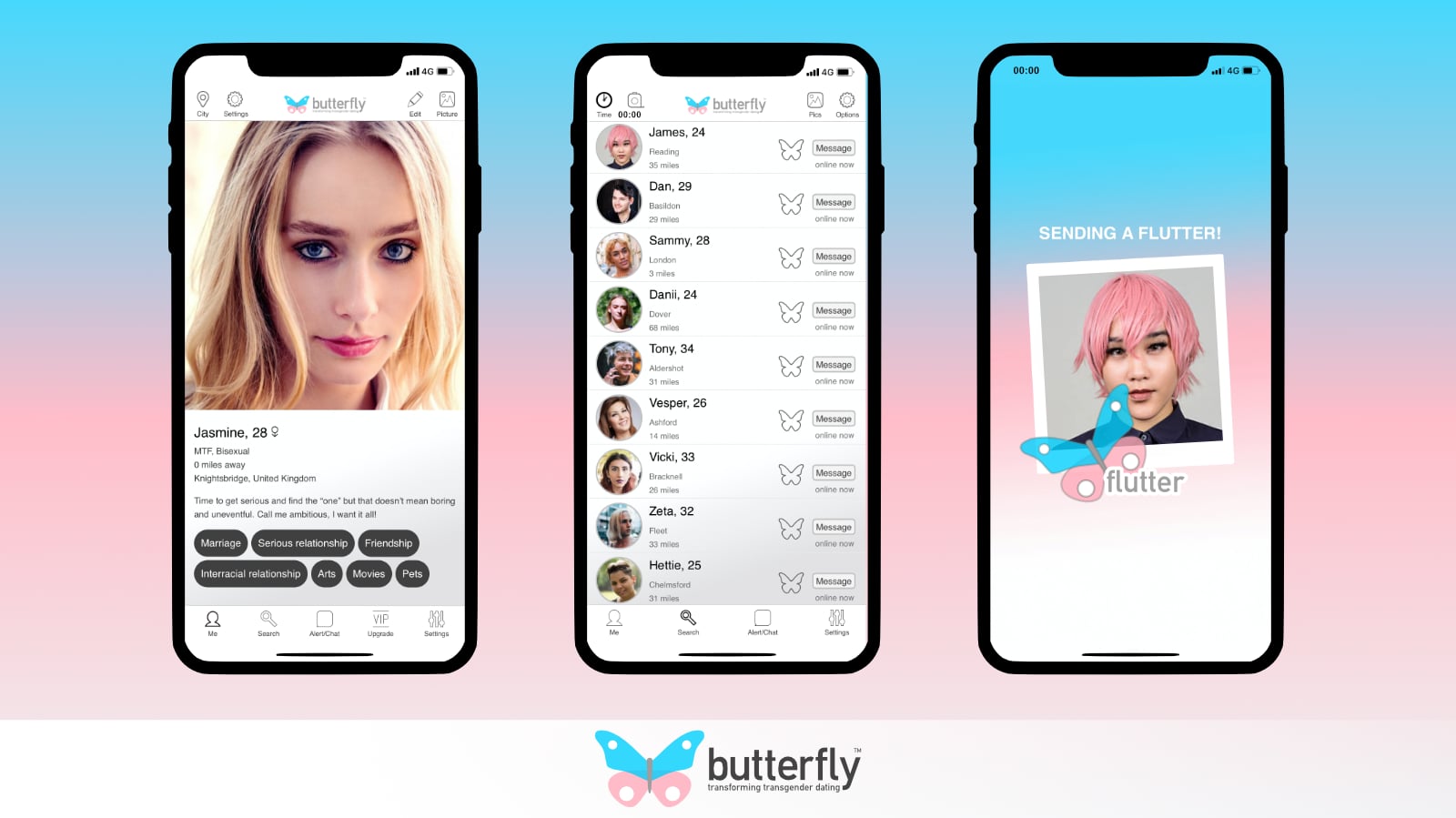 Well, the app allowed on to select from twenty-four gender options and ten sexuality options. They also have the option to change it at any time. For example, a person may start as a gender-questioning bisexual and later change it to male-female transgender straight. The app covers almost all gender and sexuality options.
On some cisgender dating apps, words like lady-boy and she-male are used which is considered offensive by some in the trans community. Most dating apps are designed to make trans folk a fetish item. Rather than identify them as someone who is looking for a relationship. The app has launched a new update where Minns plans to build a dictionary for offensive words. These would be flagged on profiles and messages. This way the app can also increase awareness in the country.
On the app, everyone is interested in dating transgenders. Hence you will not be able to get into a difficult dilemma. It eases out a few questions like whether you have can tell a person you are trans or wait until after a few dates. It removes a lot of pressure. And it allows you to focus on meaningful and exciting connections. Moreover, the app creates a secure environment for the transgender population to interact.
Privacy is given utmost importance in Butterfly.
Although section 377, which criminalizes homosexuality, had been revoked, acceptance of nonbinary gender is still to arrive. Even though there is still an issue with acceptance, the app offers privacy. It is Butterfly's top priority.
To protect the anonymity of the person, the dating app does not force you to link any social media accounts like Facebook. The only personal information that is required is an email address. The application suggests that the user must create a new email address for the purpose of online dating. Messages sent privately are deleted after 30 days. This way the personal data is not left on servers for years and not backed up. Moreover, the photos are not compulsory. Faces can be cropped out in photos if they wish.
Some locations can be tracked through dating apps. Butterfly stores the GPS locations approximately. And the distances are sent back to the app. Other apps track the longitude and latitude of locations. This could be dangerous in many ways. But butterfly ensures this privacy.
The app does not allow the giving of full names. It has a list of 20,000 pre-approved first names. This ensures no one gives away their full name. The app also has a password hash. Minns claims that this would take up to 200 years to be decoded. Minns adds, "I feel it's better for a user to update their age once a year than give away information that is used to validate identity for a bank account,"
Tentative steps for trans rights.
Lately, India has taken steps to protect trans rights. the Supreme Court officially recognizes trans as a third gender.
India saw the first-ever transgender wedding, in 2019. We also saw decriminalization begging for transgender people. This happened after the community argued that it was their primary source of income. A recruitment drive was started for trans police officers in Chhattisgarh. Even though they went through months of training and study, none of the applicants were selected to join the force.
There have been small changes in the country. But all in all, it is starting to make a much bigger difference. Ther had been more acceptance in society for trans people. Let us see what else the country has to offer for transgenders in 2020.
Next read: Grindr- A Platform to Commit Crimes of Homophobia
<a href="https://www.bizz-directory.com/">Bizz Directory.com</a>
https://www.pinknews.co.uk/2020/01/08/butterfly-transgender-dating-app-india-launch/

https://qz.com/india/1780350/butterfly-dating-app-for-transgender-people-debuts-in-india/