Transgender steps in Transphobic Steps out -"Victoria Secret"
Victoria's Secret is an American designer, manufacturer, and marketer of women's lingerie, womenswear, and beauty products.
The Angels:
Victoria's Secret started working with renowned models in the early 1990s. The models helped the brand become popular and soon featured in televised commercials.
The Fashion Show:
In 1995, Victoria's Secret started holding its annual Victoria's Secret Fashion Show, which broadcasts on primetime American television. The Fashion Show is spectacular and gathers a huge audience too.
Criticism:
The brand recently faced criticism regarding hiring "Transgender Models" for the show. According to Ed Razek " The decision of hiring a trans model follows a backlash against comments by marketing chief of parent company L Brands. He also made a statement saying "he would not use trans or plus-size models "because the show is a fantasy".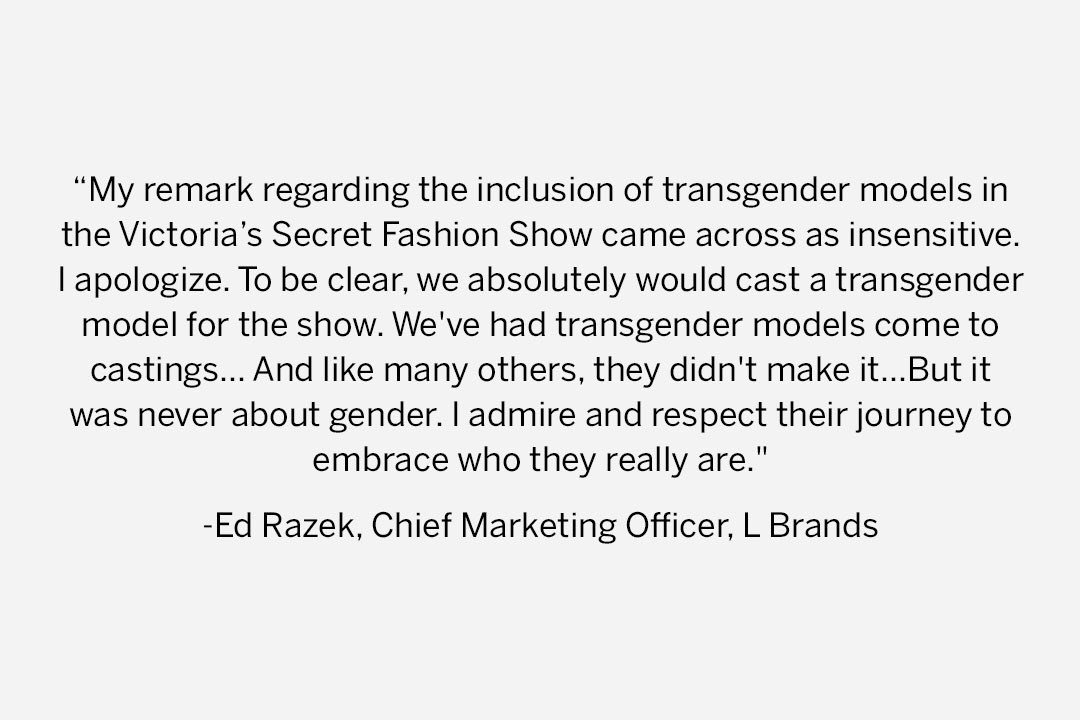 After receiving comments on social media, Ed Razek reversed his comments in a statement saying that the company would "absolutely" cast a trans model.
"We've had transgender models come to castings," the statement said. "And like many others, they didn't make it."
These comments drew immediate criticism, including from supermodel Karlie Kloss, who announced that she would no longer be working with Victoria's Secret. Victoria Secret did not respond to the above statement made by Karlie Kloss.
The Change:
However, after facing all the criticisms on social media the brand decided to hire a first transgender model, Valentina Sampaio.
Daniel Robson at Premier Model Management in London confirmed the Brazilian model had signed a contract with Victoria's Secret.
Sampaio is a 22-year-old transgender model from Brazil who began her career walking in São Paulo Fashion Week. She was subsequently cast in the ad campaign for the collaboration between L'Oréal Paris and Balmain in 2017. She also appeared on the cover of Vogue Paris for the March 2017 issue, marking the first time a transgender model appeared on the cover of any Vogue edition.
Valentina also appeared on other Vogue covers, including the Brazilian and German editions, and on the covers of Elle Mexico and Brazil and in the pages of Vanity Fair Italy and Marie Claire Brazil. Sampaio has also worked with brands such as Philipp Plein, Moschino, and Pollini, among others.
Sampaio posted a backstage Instagram photo of herself in a white dressing gown on a shoot this week, with the hashtags #diversity and #new #vspink #campaign, referring to Pink, the brand launched in 2002 aimed at younger women.
What others had to say?
Many celebrities and other Victoria Secret models have shown their support  for Sampaio and Victoria's Secret over the milestone, including actress and activist Laverne Cox, who commented on Sampaio's Instagram post, "Wow finally!" Other Victoria's Secret Angels have also praised Sampaio on her post, including models Elsa Hosk, Lily Aldridge and Gizele Oliveira.
Lais Ribeiro, a Victoria's Secret Angel, commented clapping hands emojis to the post and later tweeted about the news.
This makes me so happy," Ribeiro, who is also Brazilian, wrote adding that Sampaio is the first trans model to work with the brand.
Also Read: Transgender Athletes can participate in Cross-Fit Games
For The Brand:
While Sampaio's hiring is a step forward for inclusivity and representation, the news itself seems hollow, especially following comments made by Limited Brands chief marketing officer Ed Razek. L Brands owns Victoria's Secret.
It seems like an effort to catch up with more progressive competitors, which are winning over younger consumers by being more inclusive.
The brand is still facing a number of scandals including the ties Wexner has with Epstein, a disgraced billionaire, and a convicted sex offender.
Victoria's Secret has also been accused of leaving models vulnerable to sexual harassment, including recent allegations against photographers Timur Emek, David Bellemere and Greg Kadel, who have reportedly acted inappropriately with female models.
For a brand that has routinely come under fire for the lack of diversity and inclusivity among its models. Sampaio's casting could represent a wind of change at the nation's most famous lingerie retailer.
Also Read: The Rainbow Wire | This Weekend's Top LGBT+ News WorldWide
Also:
Ed Razek, who apologized for transphobic comments resigned from the brand soon after the brand signs its first transgender model.
The Brand made statements that made people think about how safe and accepting the brand is about female models.
In order to sustain the brand's popularity:
It needs to take a few bold steps which would keep the in- house models safe and sound. This can also amend the previous allegations which pointed out at sexual harassment towards the models.
Victoria Secrets 2019 catwalk could be canceled due to the various allegations the company has faced. It is rethinking its annual fashion show after criticism it is sexist and out of touch as network television viewing figures have fallen.