Vause and Blake: The Only Same Sex Couple To Work At a Brothel
Meet Kayden Blake and Violet Vause, the only same sex married couple, to work at a legal brothel named Sheri's in Pahrump, Nevada. Seven years of togetherness later, they decided to tie the knot and have been married for two years now. Take a look at their beautiful journey of love and growing.
NOTHING CAN KILL LOVE
A fifteen year old Vause was caught having a sexual relationship with another girl at her school. Since she went to a religious residential boarding school, the authorities put Vause through severe punishments, including a call to her mother. Though Vause's mom was very supportive of her bisexuality, the punishments and pain she went through were humiliating and traumatising. A few years later, she attended a SuperBowl party at Blake's. They immediately started seeing each other, shortly after. Blake was from a conservative christian family and she was forbade from seeing Vause. She was also pressured to break up with Vause. She even had to cut off communication with her family, often. Blake thinks of their early years of relationship as a 'tumultuous time' even today.
NEW JOURNEY, NEW HURDLES 
Once graduating high school, they set off and started a new life together. Initially, life was not easy on them. Despite working full-time office jobs, they found it as a great struggle to make ends meet. This all began to slowly change when Vause came across an ad for a fetish modelling website, while scrolling on Craigslist for a new job. It picked her interest and so much that she started performing as a live web cam model. This can be noted as the first point in their story. They acquired a solid loyal fanbase, when Blake and Vause started performing live as a couple.
In an interview with Vice, Blake explained their camming days – "When we were just camming, we were very, very open about our relationship". Blake and Vause got hitched when they were freelancing as live cam models. "We got married while we were camming and we announced it online. We got really good feedback. Our members sent us wedding presents", explained Blake. It affirmed their decision to work as full time cam models. She also said that live camming changed their lives and helped them grow, even as a couple.
TURNING A NEW LEAF AT THIS LEGAL BROTHEL
Two years later, Blake explained that they were looking at options to expand. Vause said that working in a brothel was never on their radar. But many fans suggested they give it a try, after their move to Nevada where prostitution is legalised.  "We were really intrigued with the idea," explained Blake. "It was never something we were ever closed off to, it just wasn't something that had occurred to us." Blake and Vause had complete belief that their work partnership and personal relationship would remain strong, irrespective of each seeing clients individually. Possible work-life hurdles were never a concern for them.
Although they were excited about transitioning from cam models to a new work environment, the only concern was whether clients would be supportive of their 'married' status, unlike the camming fanbase. "There was a definite concern that clients would treat us differently once we were open about our marriage," Vause said. "There are some clients who feel that providers who are open about their relationships ruin the 'fantasy.'" They also wondered if they would find it difficult to mingle with colleagues and handle the competition for clients. "We hadn't worked in that environment with a bunch of other women. We weren't sure how," said Blake.
Extensive research led them to Sheri's and they never regret this decision. The ranch's all-female management, strict alcohol regulations and no-tolerance-for-drug policy really appealed to them, said Blake. "It's just a more comfortable atmosphere," Vause said. "It's more of a community."
COMING OUT AS MARRIED AT THE BROTHEL: A LOADED DECISION
Although Sheri's follows a queer-friendly environment – including the managers and coworkers – coming out as a married couple still worried Blake and Vause. "We weren't necessarily hiding it," Blake explained, "but we weren't sure if the knowledge of us being married would deter clients from seeing us individually."
They jointly agreed that losing clients because of their announcement as a married couple was a sure possibility.  "We refused to conform to the unrealistic expectations of a select few and began being more open," Vause said. "Providers shouldn't have to hide themselves in order to make anyone comfortable. We are people just like everyone else, we have people we love, families, goals, and entire lives outside of our job title."
On Sheri's official website, the couple came out as married in a blog post. Coming out while working at the brothel helped them get closer to the queer community and its communities of sex workers. It also helped them solidify their own expressions of identity and sexuality. "We make most of our connections with the LGBTQ+ community through our work and relationships at the ranch," Vause added. "It is not uncommon at all to meet a member of the sex worker community who also identifies as any variance of sexual or gender identities."
VAUSE AND BLAKE, HAPPILY EVER AFTER
The announcement also strengthened Vause and Blake's marriage and paved way for new opportunities for their financial freedom. "For a very long time, the idea of buying a home, going to school, and starting a family were out of the question for us," Vause said to Vice. "But now we often sit together in the courtyard of the ranch planning exactly that. There aren't really even words to describe how much of a difference working in this industry, and being open about our marriage, has made." Vause and Blake visit the ranch once in two weeks to stay and work for a period of time. Their only focus is their job while at the ranch, which will help them realise all the dreams about future. As teenagers, it's a future they never even dared to think about dreaming of.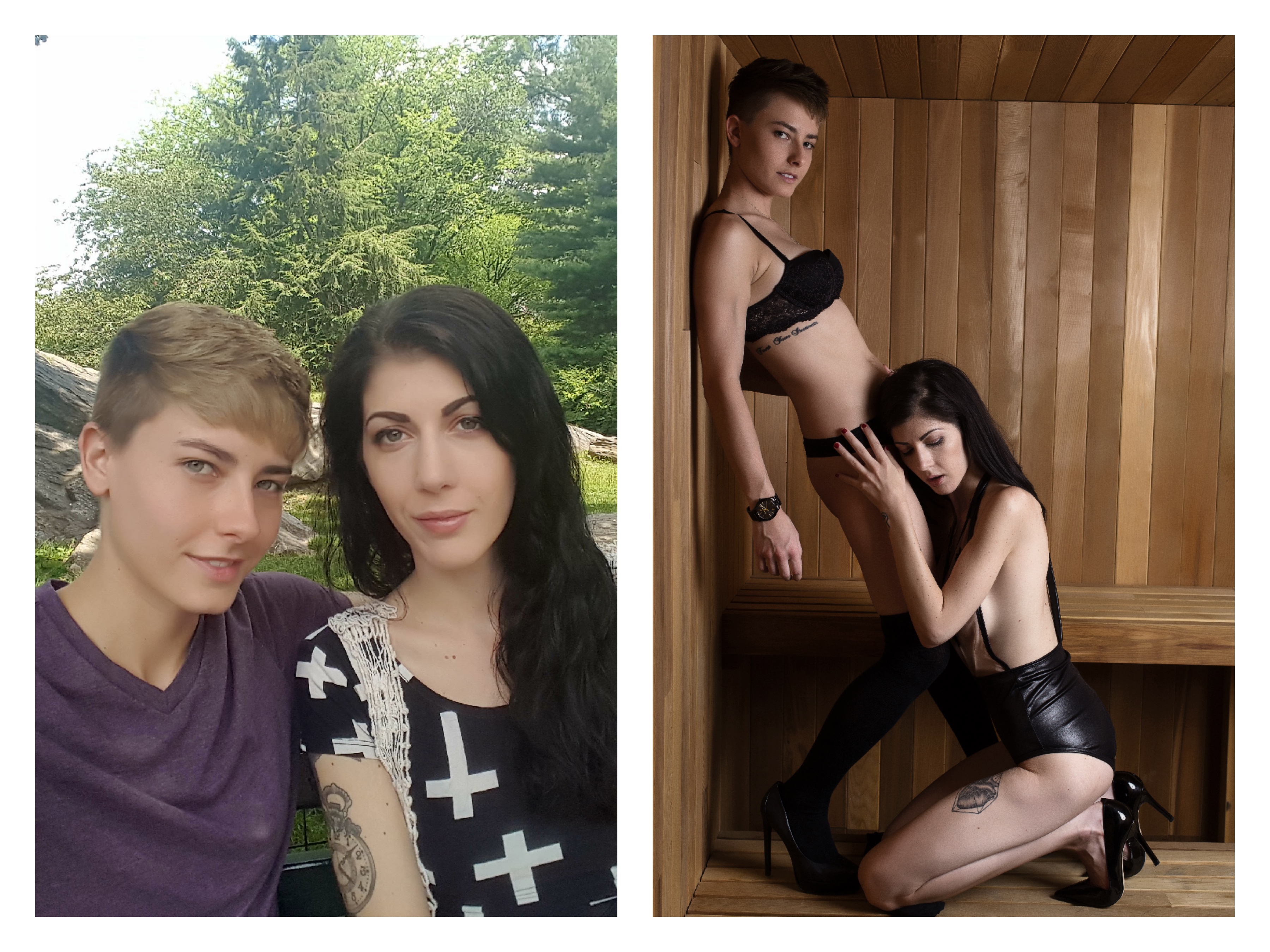 A happy ending is what we all deserve, just like Vause and Blake.
Next Read: Straight Guy Leaves A Yelp Review After Gay Night Club Episode